news
In this week's The Orcadian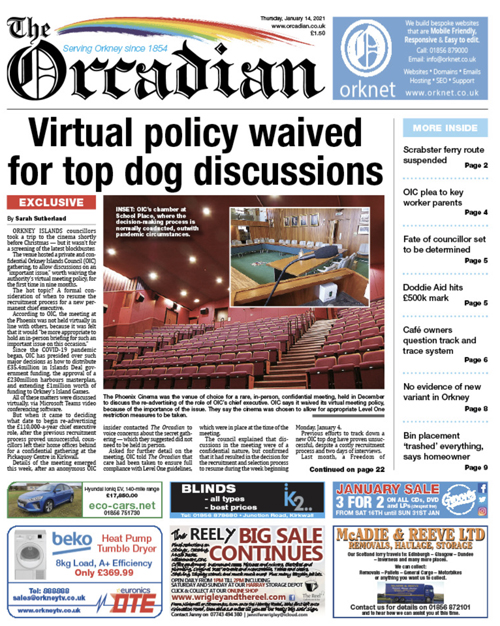 This week's edition of The Orcadian is now in shops and is available online, here.
This week's 40-page newspaper leads with an exclusive that Orkney Islands Council waived its virtual meeting policy and held a meeting at The Phoenix Cinema to discuss the timeline surrounding the recruitment process for a permanent chief executive.
For the first time since the start of the pandemic, councillors met in person, with the chief executive recruitment deemed such an important issue that it was "more appropriate" to hold an in-person briefing.
Over the course of the pandemic, OIC has presided over major decisions such as how to distribute £35.4million in Islands Deal government funding, the approval of a £230million harbours masterplan, and extending £1million worth of funding to Orkney's Island Games, by using Microsoft Teams.
Also in this week's newspaper:
Stromness/Scrabster ferry route suspended after freight vessel grounds
Inspirational walking 80-year-old breaks the 1,000-mile barrier
OIC concern at number of children in schools
Dingieshowe Beach remains identified
Councillor prepares for Standards Commission hearing
Doddie Aid challenge hits £500k mark
Additional business support announced by Scot Gov
Cafe owners question track and trace system
We speak to the lead of NHS Orkney's contact tracing team
No evidence of new COVID-19 variant in Orkney
OIC faces criticism over bin placement
Much-loved Kirkwall charity shop shuts its doors
BBC begin search for new Radio Orkney head
The latest from Kirkwall Sheriff Court
Brexit delays a serious cause for concern for shellfish sector
Stromness walks promoted with new book
Pictures from the past — a glimpse into Orkney's history
Focus on Business: Make your home warmer with Warmworks
Bird flu restrictions still in place
Loganair's "green dream" for isles following inter-island contract award
Deadline reminder for Hoy windfarm project
Festive crossword winners, and Highland Park competition winner announced
COVID restrictions causes headache for sports clubs
The build up begins for Orkney's Sporting Hall of Fame