news
Zoe the drugs dog is ready to sniff out crime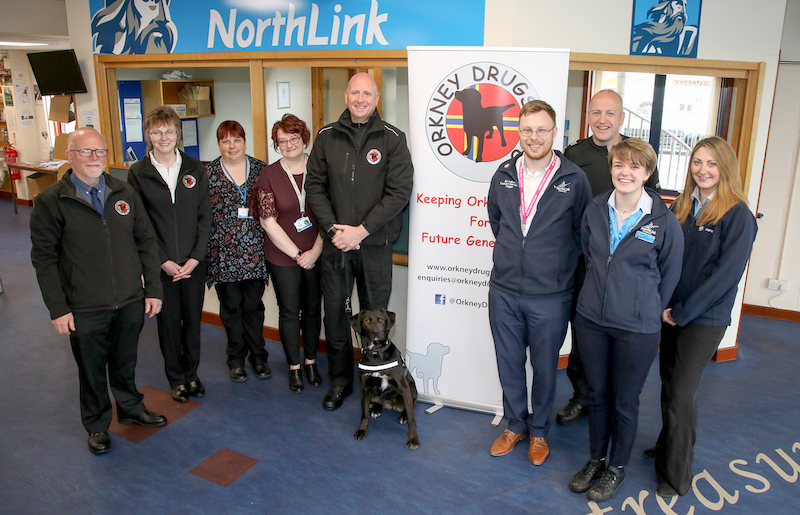 The Orkney Drugs Dog charity reached perhaps its biggest milestone yet this week, as the county's first-ever drugs detection dog, Zoe, and her handler, Kevin Moar, officially began work in Orkney together.
The charity announced this week that, having very recently gained full operational accreditation, Zoe and Kevin, are now ready to tackle drug detection operations and to deliver education programmes throughout the county.
Orkney Drugs Dog charity has been working in partnership with Police Scotland to complete training and accreditation for both and are pleased that they are now ready to be actively deployed among the community.
Zoe, a two-year-old Labrador cross supplied by Vikkas K9 Ltd in Lincoln, showed off her detection skills at Northlink Terminal, Stromness, this morning as she, her handler, and members of the Orkney Drugs Dog charity, welcomed passengers and staff arriving on the morning ferry.
Kevin and Zoe will be deployed on a regular basis at external and internal ferries, Northlink, Pentland and Orkney Ferries, Kirkwall Airport and the Post Office and will also be visiting local schools, college and community groups to deliver educational programmes over the coming months.
The chairman of Orkney Drugs Dog, Andrew Drever said, "It's been a long haul to get to this point, but the Board and Staff are all delighted to have Zoe, a lovely friendly and sociable dog, join us in taking on the main role of the charity. 
"The community support for the charity's aims has been immense and we are now looking forward to playing our part in supporting the community by reducing the supply and use of drugs within Orkney and in Keeping Orkney Safe for Future Generations."