news
Yellow warning issued as 68mph gusts forecast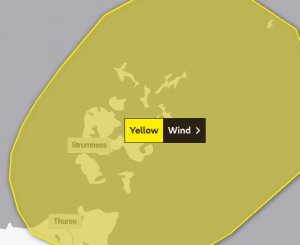 Ferry companies are forecasting disruption as the Met Office predicts gusts of up to 68mph for Orkney overnight.
A yellow weather warning for wind is set to come into force at 10pm this Wednesday, running through to 2am on Thursday.
General wind speeds of up to 42mph — force eight gales — are being predicted by meteorologists.
As a result there have been changes to sailing schedules for both internal and external ferry services.
According to forecasters, it's likely that some coastal routes, sea fronts and coastal communities will be affected by spray and/or large waves.
Further information about travel disruption can be accessed by visiting the website of the company you are planning to travel with.
For updates on road conditions, including the Churchill Barriers, you can visit the OIC Roads Twitter page or the OIC Updates page on Facebook.