whit's on
Whit's on this weekend?
There's plenty to see and do in Orkney, this weekend! Check out our website to find out more…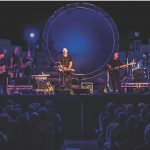 What the Floyd?
Orkney classic rock fans will be hurtling their way to the Dark Side of the Moon, this weekend, as Pink Floyd tribute act What The Floyd perform for two nights at the Orkney Theatre, Kirkwall, this Friday and Saturday night.
Both shows will see the group perform their The Music of Pink Floyd show, which will see them delve into all of Pink Floyd's catalogue, including songs from Wish You Were Here, The Wall, Animals and more. But — if that weren't enough — the concert will also include a performance of prog rock's legendary 1973 album Dark Side of the Moon in its entirety.
Further information about the show is available online via www.whatthefloyd.com or at The Reel, Kirkwall.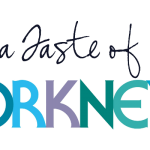 Parish Cup of Food
May 11, 2019
12:00 pm
-
2:00 pm
Get on down to the hall at Kirkwall Grammar School for a taster of something from Orkney's various parishes, this Saturday.
A Taste of Orkney's Parish Cup of Food will see folk from all over Orkney compete for the coveted cooking prize.
The hall will be open to the public from 12pm until 2pm.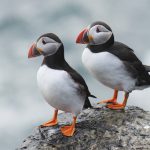 Orkney Nature Festival
May 11, 2019
The Orkney Nature Festival, the annual event focused on wildlife, will launch this Saturday, May 11, to show what the county has to offer.
Organised by RSPB Scotland, the festival features a talk from Raymond Besant in Kings Street Halls, Kirkwall.
Highlights throughout the week include scuba diving, storytelling, a wildlife talk in British sign language, and guided walks which will focus on Orkney's most iconic plants and animals, such as orcas, the Primula Scottica, and Hoy's white-tailed eagles.
The festival will also tie in with Orkney's thriving artistic scene, with opportunities to make your own creations from clay, sand and even discarded fishing rope.
Artist Patty Boonstra will show her latest work this month, at the Exhibition Room at The Old Library, Kirkwall.
Patty was born in Amsterdam and gained her BA (Hons) Degree in Fine Arts/Printmaking at St Joost, Academy of Visual Arts in Breda, Netherlands, in 1980. She moved to Orkney in 1988 to bring up her family and has lived and worked here ever since.
Patty believes that recent events in art have confirmed that the notion of nudity in art is still a "taboo subject", requiring censoring.
"In early 2017, the Manchester Art Gallery temporarily removed Hylas and the Nymphs by pre-Raphaelite painter J. W. Waterhouse from its walls," she explained.
"Later in 2017, and nearly a hundred years after his death, the posters announcing the exhibition of Viennese modernist painter Egon Schiele had to be partly covered up by banners, both in Germany and in the London Tube."
The (semi) covering of Patty's own life drawings — using techniques such as linocuts, collage, mono print, pen drawing and digital print — is the subject of this upcoming exhibition, Taboo. All the artworks are, in fact, "hybrids" of life drawings made in 1979 and the coverings, created in 2018/19. Produced forty years apart, they have now emerged as twelve new pieces of work.
The exhibition will open on May 11 and will be on show during the Exhibition Room's opening hours until June 1.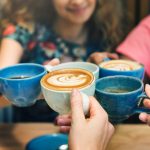 Coffee Morning
May 11, 2019
10:30 am
-
12:00 pm
Orkney Rotary Club will be hosting a coffee morning and accessory sale, this Saturday.
They will be raising funds for e'Pap and GoGo Olive at the King Street Hall, Kirkwall, from 10.30am until 12pm.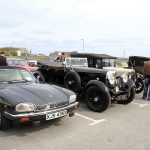 Orkney Cavalcade
May 12, 2019
Members of Orkney Vintage Club will be gathering for their cavalcade of vehicles, this Sunday.
The event starts at 10am, with attendees meeting at the Glaitness Primary School car park for a run which will include a trip past Kirbuster Pump Station, The Smithfield Hotel, Stromness Museum and the Standing Stones Hotel.
All are welcome.
Feeling lucky? There will be a prize bingo held tonight, Friday, at the Sandwick Hall.
Eyes down at 7.30pm. Proceeds will be in aid of Sandwick RNLI.