whit's on
Whit's on this weekend?
There's plenty to see and do in Orkney, this weekend. Check out our website to find out more…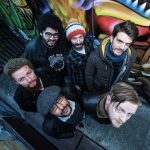 James Brown is Annie
April 5, 2019
9:00 pm
Are you ready for some funk and soul?
This Friday night will see Edinburgh-based band James Brown is Annie take to the stage at Kirkwall's Sound Archive — starting at 9pm.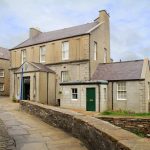 Scapa 100 Exhibition
April 5, 2019
Stromness Museum will be launching their summer exhibition tomorrow, Saturday.
Scapa 100 — Salvaging Our Heritage: The Wrecks of Scapa Flow and Living Wrecks: The Marine Life of Scapa Flow will be on show until November 2.
To find out more about the exhibition, pick up a copy of next Thursday's The Orcadian.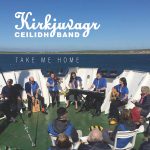 Album Launch
April 5, 2019
8:00 pm
After lots of rehearsals in the garage and playing venues in Orkney and the Scottish Mainland over the winter, Kirkjuvagr Ceilidh Band have recorded this latest CD — Take Me Home — which they will be launching this Friday evening.
Since the band released their last CD, there has been the addition of four babies in the Kirjuvagr Ceilidh family.
Ruby, Molly, Mia and Vaila have made band practices really fun, interesting and a bit of a challenge at times! With three generations playing on one of the new album's tracks — The Dark Island — there were often four generations present for band rehearsals.
The release of Take Me Home comes just before The Orkney Traditional Dance Association Ceilidh week, where the band are largely involved. With an upcoming invitation to The Highland Accordion and Fiddle Club, Wick Accordion and Fiddle Club and a dance at North Kessock, the band are delighted the CD will be available to take with them.
Everyone is welcome to come along to the band's free concert to launch the album in the King Street Halls, this Friday evening, April 5, at 8pm.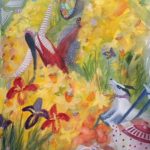 Spring has Sprung
April 5, 2019
Spring is in the air at the Orkney Museum, Kirkwall, this April with an exhibition of new paintings by local artist Sheena Graham-George.
Spring has Sprung is a celebration of the turning of the seasons, captured by Sheena's imagination and paintbrush and will open this Saturday.
"Last year, Tom Muir approached me to ask if I'd be interested in having a solo exhibition at the museum of my paintings," says Sheena.
"I was thrilled to be asked as, strangely enough, over the years, I have exhibited on a number of times there — Voices from the Cillín alongside Angelica Kroeger, Exquisite Corpse with Jen Townsend and Lullaby — an exhibition of paper butterflies — once again about the Irish cillíní. But it had never crossed my mind about an exhibition of the lighter side of my work — my paintings!
"Working towards the exhibition has been a fantastic opportunity to reflect on the seasons and the effects they have on certainly my temperament and colour palette. From the deep russets and indigos of cosy fireside scenes to the explosion of colour, especially yellow, in the gardens and road verges as spring finally visits Orkney.
"I had lots of fun playing with these paintings and my greatest hope is that same joy is passed on to anyone viewing these works."
Spring has Sprung by Sheena Graham-George runs at the Orkney Museum from April 6 – 27.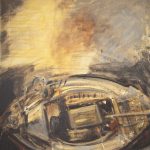 Where Tideways Run
April 5, 2019
Artist Monique Sliedrecht opens the first exhibition of the season at the Northlight Gallery in Stromness this weekend.
The exhibition is called Where Tideways Run, a reference to a poem by the Orcadian poet Robert Rendall, who is commemorated in St Magnus Cathedral.
"This is very exciting for me, because Orkney has been a special place to me for so many years," said Monique.
"This is my first solo exhibition here, and I look forward to staying in Stromness throughout and meeting friends — and, I hope, making new friends through visitors to the lovely Northlight Gallery."
Monique was born in Canada to Dutch parents, and moved to Scotland in 2001. She has lived and worked in Freswick, Caithness and Edinburgh, and still has studios in both locations. Monique obtained her Bachelor of Arts in the US and then studied painting in Toronto and at Leith School of Art, Edinburgh. Working in oils and mixed media, the wild spaces in the far north of Scotland are her constant
inspiration.
"It's as if various elements in my life are floating together, driven by mysterious forces, in this work," she added.
"I like the idea of drifting from Canada to a tiny seaside village in the far north of Scotland, working on the shores of the remote and lovely Freswick Castle, developing ideas in my studio in Edinburgh and then bringing everything together on Orkney!"
Monique has been director of arts for many years at Freswick Castle, and has been a frequent visitor to Orkney.
"I have been inspired by the light, the open skies, the wild seas — and above all by the hospitality and warmth of the welcome here," she explained.
Her most familiar images come from the shifting seascapes and small boats, travelling alone in the elements. Throughout her work there is powerful light and equally powerful darkness, pervading a vision of fragile vessels, nestling in tiny havens along the coastline or riding the restless
sea.
The exhibition is open from April 6–17 daily, from 10am until 5pm.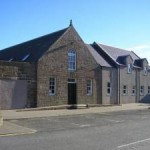 Spring Extravaganza Sale
April 7, 2019
11:00 am
-
4:00 pm
If you fancy a bargain, there will be a Spring Extravaganza Sale at the Cromarty Hall, St Margaret's Hope, this Sunday.
With second-hand goos, a huge book sale, a raffle and much more, it'll be well-worth heading along between 11am and 4pm.
The cafe will be open for soup, mince rolls and puddings between 11.30am and 3pm.