news
In this week's special edition of The Orcadian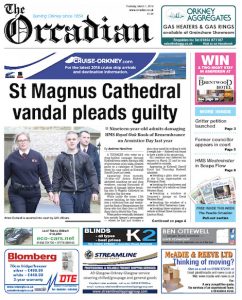 The release of this week's paper marks a major milestone in the history of The Orcadian, and Orkney Media Group, as it is the first edition of our paper to be printed on the Scottish Mainland.
This week's front page, inside the special cover on this weeks paper, features a story on a nineteen-year-old man who has pleaded guilty to vandalising St Magnus Cathedral on November 11, Armistice Day, last year.
Also in this week's edition of the paper:
• The Royal Navy Frigate, the HMS Westminster visits Scapa Flow
• Ploughing match season finally gets underway
• The search continues for a new Golden Mariana
• An Orkney performer trains with a Broadway mentor
This week's edition of the paper also features the fourth issue of The Peedie Orcadian — our once-a-month supplement aimed at young people living here in Orkney.
For all these stories, and much more pick up a copy of today's very special 64-page edition of The Orcadian.