news
Virtual meetings begin to discuss 'community empowerment'
A series of virtual community meetings have been organised following on from the Orkney Matters survey.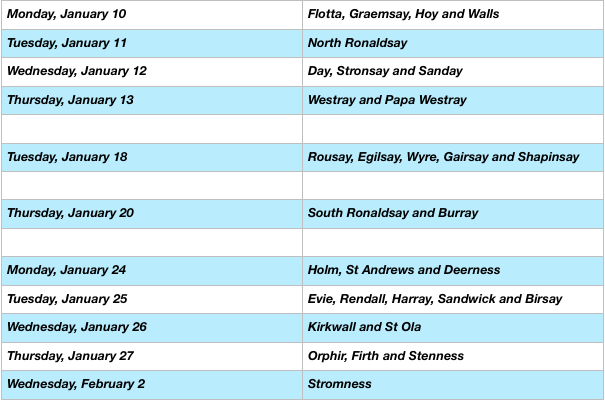 Beginning tonight, January 10, and running until the beginning of February, sessions are planned covering all areas of Orkney.
The first one will start at 7pm and cover Flotta, Graemsay, Hoy and Walls.
Community councils, development trusts and other community groups will be invited to participate, though any interested member of the public can attend. To book a place email communitycouncils@orkney.gov.uk with which meeting you would like to attend and your email contact to be used.
During the sessions, key members from those involved in the consultation will be on hand to outline the story so far, to answer questions and log feedback.
Susan Shearer, planning manager with Development and Marine Planning, said: "Given the ongoing COVID-19 situation, it is important that we hold these meetings virtually to keep everyone safe, however it is important to keep the momentum going in regards to the Orkney Matters consultation.
"The aim of the meetings is to consider the initial questionnaire data, ask about community projects and ideas and discuss community empowerment and place plans.
"So far comments have noted concerns over digital connectivity, how we have all enjoyed Orkney's outdoor spaces during the pandemic but have found periods of lockdown challenging. There is concern raised over housing, ferries and community facilities.
"This next stage will allow us to find out more.
"We welcome all community members to come along, whether individuals, members of clubs, charities, committees; your input is needed."
Susan continued: "We have received a broad range of responses and ideas from all areas, particularly those in the isles, and would like to encourage more folk from the Mainland to get in touch.
"We would encourage people in their community to attend and have their say on what is important to them so that future plans and actions are guided by those who know their community best."
The initial questionnaire has attracted around 1,000 responses to date, and will remain open until the end of January. It can be accessed at www.orkney.gov.uk/matters or by contacting the council and requesting a paper copy. Completed entries will also be entered into a draw to win a £100 local voucher.
The meetings will start at 7pm and will run until 8.30pm over Teams.
If you have any questions, please email the consultation team at orkneymatters@orkney.gov.uk.