news
VAO picks up business excellence award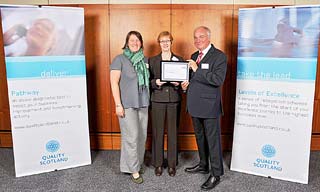 The hard work and dedication of staff at Voluntary Action Orkney (VAO) has been honoured at the Scottish Awards for Business Excellence.
Staff at the Kirkwall-based business celebrated success in the "Committed to Excellence" category.
Their success recognised the organisation maintaining a consistent high level of "best practice" quality procedures within the scope of its business excellence strategy.
Gaynor Jones, VAO chief executive officer, said: "This award has been deservedly won thanks to the sterling effort shown by all staff and volunteers across Orkney.
"They do so much great work in the community. They enrich the lives of others and much of what they do often goes unheralded. This 'Committed to Excellence' award gives them recognition of just how important a role they play among the people they help.