news
Upper Onston stot claims Dounby cattle title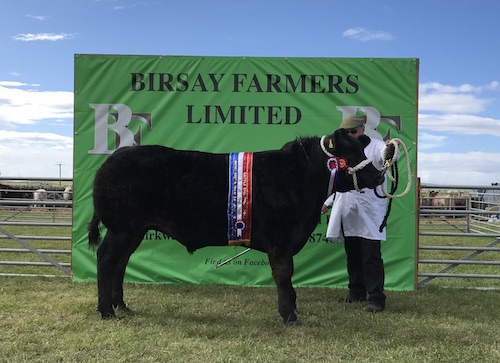 The 120th Dounby Show took place today, Thursday, with the showpark bathed in glorious sunshine and light winds.
The overall winner of this year's cattle section was an eighteen-month-old Limousin cross stot shown by Liam Muir, of Upper Onston Stenness. The homebred stot, named Dennis the Menace, was sired by Goldies iPad and was from a Limousin cross Belgian Blue cow.
The animal that came second to the stot, both overall and in the Blue, Grey and black or Black and White Cross section was shown by Messrs Spence, Norton, Dounby and was a July 2017-born homebred Belgian Blue cross cow named Tulula. The six-year-old cow was sired by Tamhorn Amazon and was out of a Limousin cross cow.
Prevailing as champion horse at the 2018 Dounby Show was the Shetland brood mare, Millquoy Jade, shown by J. & M. Slater of Millquoy in Stenness, and handled by Susie Manson. The seven-year-old horse was sired by Canterburgh Sir William, and out of the dam Millquoy Jenny. It is the second time Millquoy Jade has come away with the overall prize, having also won it in 2016.
The overall sheep champion was presented to Raymond Flaws, Nisthouse, Evie for his Beltex shearling ram. Raymond was delighted with the prize in a year, that was a very strong category for sheep.
Raymond said the ramm, named Woodwick Chino, was a homebred shearling tup, the sire was Airyolland Avicci and the dam was sired by "wee JImmy". Raymond told The Orcadian that he was "delighted" with the prize. He continued: "I've had a brilliant show."
The show's dog champion was Vikki Thomson from Stromness' six-month-old Chihuahua, Odin, shown by Maggie Thomson.
Reserve was Lindsay Grant from Orphir's two-and-a-half-year-old bull terrier, Bosley.
The overall pet winner was seven-year-old Orlagh Sinclair with Jackson, a three-and-a-half month old collie/kelpie cross.
The goat section saw Katrina Mainland, Lyde, Finstown take home the top prize with a with a first kidder British Saanen, Arctic Heathers, out of Acremead Hidden Gem, and by Summerland Harrison.
The reserve was Gill Tennant, Newtonhill, Cauldhouse Road, Stromness, with a Porthrhiw kid born at end of March, sired by Burnhead Aintree and out of Arctic Willow.
Meanwhile, the poultry winner for the day was Donald MacIsaac, The Glebe, Hoy with a 16-month-old homebred white call duck. The section's reserve prize went to Merisa Hutchison, Viera View, Rendall with a homebred two-year-old Orpington chicken.