news
Time's up for hand winding St Magnus Cathedral clock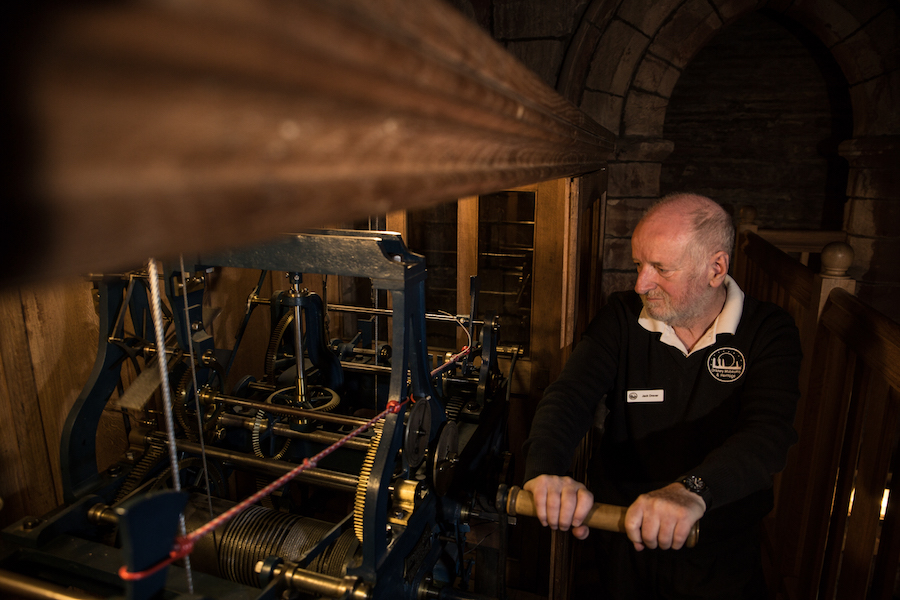 A century of tradition has come to an end inside Kirkwall's St Magnus Cathedral with the cathedral clock having been wound by hand for the very last time.
Since the clock was installed in 1919, it has been the job of the custodians and stonemasons to wind the large mechanism, but this week an automatic clock winder will be fitted that will do the job for them.
The work is being carried out by Clockmakers Smith of Derby, who have recently merged with the original makers of the current clock at the cathedral James Ritchie and Son, and it will take four days to complete. Each of the three winding barrels will have a small motor fitted, and a sensor, which will automatically detect when the clock has wound down to a certain level. In addition, the clock will also be fitted with a pendulum regulator, which will ensure the clock time is more accurate.
Cathedral custodian Fran Hollinrake said: "It is the end of an era. It was always a great workout climbing the tower stairs and manually winding the clock, but it was just becoming too impractical with all our other duties. The clock will still be the clock, it will just have a couple of new bits added on."
The previous clock on St Magnus Cathedral dated from 1761, and was made by Hugh Gordon, a clockmaker in Aberdeen. But during the early 20th century, as part of the Sheriff Thoms bequest, a new timepiece was commissioned that would see the cathedral through the 20th century and beyond. The present clock was made when the world was at war, in 1915, although it was not actually installed until 1919, the same week that the Treaty of Versailles was signed that ended the First World War.
James Ritchie and Son (Clockmakers) was founded in 1809, and the company specialised in large steeple and public clocks, both making and restoring. If you are familiar with Princes Street Gardens in Edinburgh, you will know the world-famous Floral Clock, not far from Waverley Station. It was made in 1903 by Ritchie's, and was the first of its kind in the world.