sport
The weekend's sport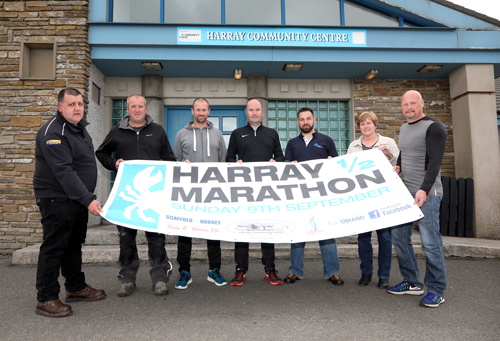 Harray is preparing for for its first half marathon, while the Orkney Dragons get their title defence underway in this weekend's sport.
To begin with, four Orkney rugby sides will be in action over the weekend, with eyes on the women's opening match of their season.
Orkney Dragons won the Women's North League last term and will get the defence of their title underway against Inverness Craig Dunain on Saturday.
The match will kick-off at 12.30pm at the Picky Centre pitch.
The men's side is aiming to banish the painful memories of last weekend's last-gasp defeat to West of Scotland when they take on Perthshire.
The match at North Inch will kick-off at 12 noon.
Orkney's under-14 and under-16 rugby sides are also in action on Sunday against Ross Sutherland, starting at 12.30pm.
Also on Saturday, Orkney FC are in Football Times Cup action at home to Halkirk United.
Kick-off is 12.30pm at the KGS grass pitch.
Also, in football, the Jolly Cup Final between Thorfinn and Rovers will kick-off tonight (Friday) at 6.15pm at Picky.
It is also a big weekend for the OYDG with the Flotta Terminal Football Tournament being held at the Pickaquoy outfield pitches.
The competition will see 200 hundred young footballers taking part, with 20 teams set to compete for the new Flotta Cup and Flotta Shield.
Five teams are coming down from Shetland, while there is also a BBQ and fun stalls through the weekend.
Play is set to begin at 10am on both Saturday and Sunday, ending at 4pm.
Orkney Badminton Association is set to hold the Under-14, Under-16 and Under-18 Restricted Championships across the weekend.
Around 100 players from as far afield as Shetland, Inverness and the Western Isles will travel to the county, with play commencing from 9am on Saturday.
On Sunday, over 70 runners will attempt to complete the first Harray Half Marathon.
The booming running scene sees competitors tackle the 13.1-mile run, starting and finishing at the Harray Hall.
The race is scheduled to start at 10.30am.
Elsewhere, Orkney Sailing Club's Kemp Cup Regatta is on Saturday. Registration at 9am at Hatston Slip and briefing is at 9.30am.
Junior rowing will be on this Sunday at 9.45am at the Hatston slip. It is open to children between 10 and 15 years old and new rowers are welcome. More information can be found at the rowing club's Facebook page.
Local horse riders will be getting the benefit of lessons from one of Scotland's top equestrian coaches David Gatherer, who is at the Riding Centre this weekend.