news
Survey team focus on German Fleet scrap sites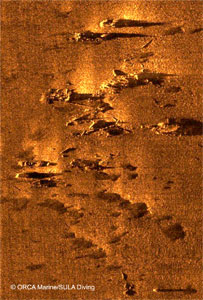 A project to survey the salvage sites of the scuttled German High Seas Fleet is due to get under way in the next few weeks.
Archaeologists from the University of the Highlands and Islands Archaeology Institute have teamed up with SULA Diving for the Historic Environment Scotland-funded project.
The High Seas Fleet was interned in Scapa Flow at the end of the First World War and scuttled, in 1919, on the orders of Admiral Ludwig Von Reuter.
Salvage efforts, to raise the ships for scrap, saw 45 recovered and as a result of these operations various components of the ships' structures lie on the seabed but are relatively undocumented.
Led by Sandra Henry, a marine archaeologist from the Archaeology Institute, and Kevin Heath, of SULA Diving, the survey is looking to identify the primary scrap sites and associated secondary sites.
According to the project team, the survey will provide baseline data for the long-term monitoring of the sites and the results will be made available via the Scapa Flow Wrecks website.