news
Stromness prepares to welcome back The Yule Log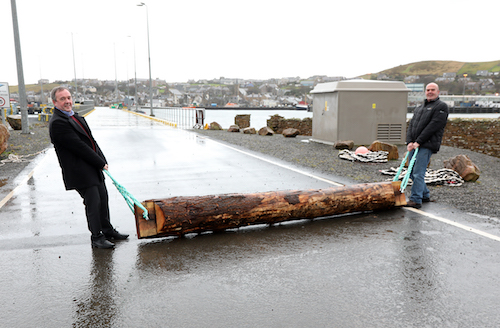 Tomorrow, Hogmanay, will see a very special event return to Stromness for the first time since around 1937, as folk from opposite ends of the town come together to battle over a 400kg log.
The Yule Log is a revival of a unique street game, which pitted folk living in the North End of the town against those living in the South in a tug of war, as a log was dragged through the streets to opposing goals on either side of the town.
The game has been revived by the town's Development Trust to signal the end of Stromness's Per Mare year — 12 months of celebrations which have been marking 200 years since Stromness became a Burgh of Barony.
The event starts at 2pm on the dot at the Pierhead in Stromness. Two teams have been formed by local folk, with the Northenders fighting to get the log to Flett's Butchers on John Street and the Soothenders heading for the bottom of the Church Road. Once either goal is reached that team will be declared winners on the day.
A road closure will be effect for the main street in Stromness, from the bottom of Hellihole Road, through to the bottom of Back Road, between 12 noon and 5pm.
Vehicle drivers are asked to respect this for their own convenience and for the safety of the players.