news
Stromness parking changes to enhance town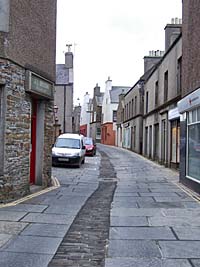 The way that parking bays in the centre of Stromness are marked will change in coming weeks, to help enhance the appearance of the newly-laid flagstones.
Existing yellow lines, which indicated areas where parking is not permitted, will be removed.
Instead, small painted white markings will outline the corners of permitted parking bays.
As a general rule, parking will only be permitted within the newly marked bays. All other areas within the historic core of town (previously marked as non-parking areas by solid yellow lines) will remain off-limits for parking in.
Signs will be erected to help outline where parking is permitted.