features
Stenness farm welcomes triplet calves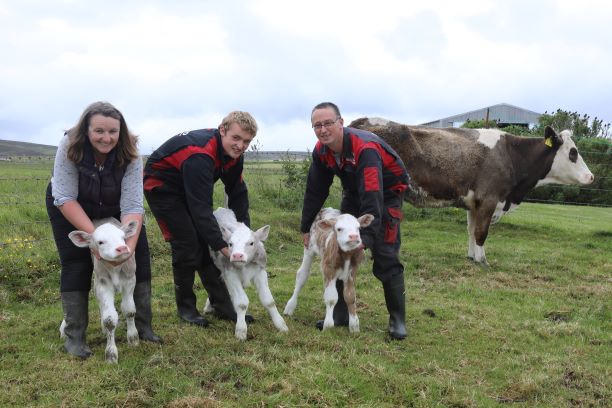 Last week saw a rare set of triplet calves born at a West Mainland farm.
The Sclater Family at Lower Hobbister were surprised when three healthy calves were born to one of their cows on Tuesday, June 30.
Karen Sclater explained that the cow was scanned with what they thought were twins to a Charolais bull. However as it turned out to be a trio they named the calves – one heifer and two bulls – after the famous Kellog's Rice Krispies mascots.
Karen said: "Graham checked her about 6am on Tuesday morning and knew she was underway. She calved the first herself, then Scott helped pull the second and the third came itself. Mum is managing to feed all three so far with the help of some dairy nuts."
Asked if they've seen
triplets
before, Karen said: "Graham thinks he minds his granddad saying they had
triplets
years ago which would have been the early 60's and at that time would have been Aberdeen Angus cattle."
According to Leona Robertson at veterinary practice Northvet, the official statistics for
triplets
say the chances are 1 in 100,000 but the practice is aware of at least one set in Orkney every year. However, it's even rarer for the full set to be healthy and living, making the arrival of "Snap, Crackle and Pop" even more special.