news
St Magnus Cathedral recognised as one of Europe's best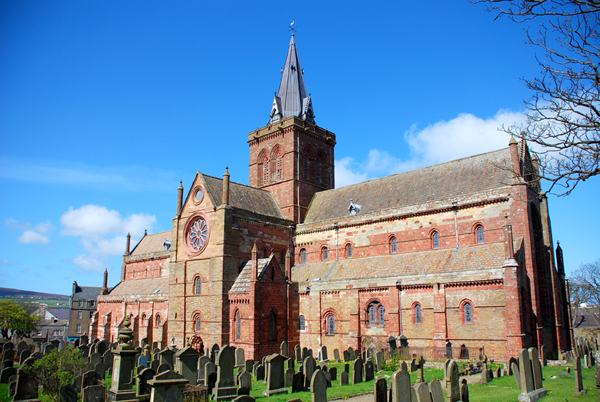 St Magnus Cathedral has been named as one of Europe's top 100 cathedrals by a best-selling author and respected church historian.
The Cathedral's magnificence has been recognised and once again celebrated in print, Europe's Best 100 Cathedrals by Simon Jenkins.
Those featured range from Kirkwall to Valetta and Moscow to Leon and St Magnus Cathedral is one of 15 British cathedrals to be selected for this, the first-ever study of European cathedrals, and is named alongside the likes of Canterbury, St Paul's London Westminster Abbey and York Minster.
The book, which is published by Viking on November 4, tells the stories behind these magnificent buildings.
In choosing the top 100, Simon Jenkins pays tribute to the buildings that he sees as manifestations of Europe's collective past.
In selecting the cathedrals he believes everyone should see before they die, the author has created the ultimate European cathedral bucket list.
Those who spend their day to day lives working within the walls of the Cathedral know only too well how special the building and its history are.
Cathedral custodian and visitor services officer, Fran Hollinrake knows how special the building is with visitors on a daily basis.
She said: "St Magnus Cathedral is extraordinary in so many ways. It's the only surviving wholly medieval cathedral in Scotland — all the others were either ruined, rebuilt, or extended in later years. We are the only church in Scotland which still contains the relics of its original saint, and as if that weren't enough we have two saints!
"Although it took nearly 300 years before it was complete, it has stood the test of time very well. What a vision Earl Rognvald must have had — he wanted to build the most important and the most impressive building in the whole of Orkney — and nearly 900 years later it still is."
Elaine Grieve, chairwoman of the Society of the Friends of St Magnus Cathedral, added: "There are many supporters of the Cathedral worldwide who, as members of the Society of the Friends of St Magnus Cathedral, have contributed to the maintenance of this wonderful building who will be delighted to read that it features in Simon Jenkins' book, Europe's 100 Best Cathedrals.
"But they won't be surprised. For more than 60 years the Society has existed primarily to raise funds to ensure the preservation of St Magnus Cathedral as an inspiring place to visit and worship. By contributing to the maintenance of the building, the future of the Cathedral as a place to be enjoyed by future generations has been secured and, through works like such as these, its magnificence has been recognised and once again celebrated in print."