sport
Spence and McAllister settle for fourth on day two in Gibraltar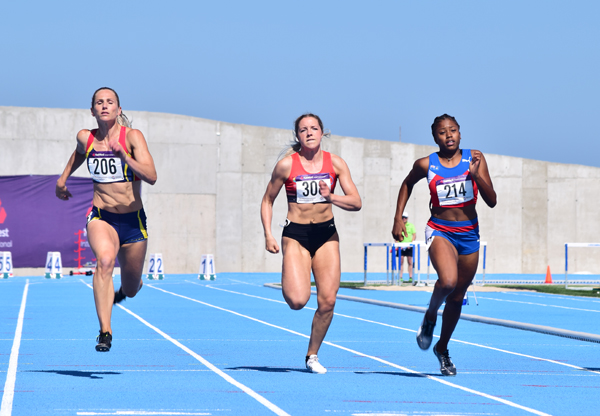 Two outstanding young Orcadians were thwarted in their attempts to secure Island Games medals with two fourth-place finishes on day two in Gibraltar.
Sprinter Taylah Spence and swimmer Mia McAllister were both narrowly edged out of the medal places in the 100-metre and 50-metre breaststroke finals on a scorching evening.
For Spence, who has been hampered by a hip injury throughout the week, she was just 0.04 seconds behind Shetland's Katie Dinwoodie.
Sara Wiss from Aland took gold and Danika Lyn from the Cayman Islands won silver.
Sian Smith also missed out on a final place in her semi-final.
Meanwhile, there wasn't long to wait until Orkney's next medal hopeful in the pool.
McAllister has struggled with her breaststroke for much of the past two years but it all came together in the semi-final where she finished as the third fastest qualifier in a time of 33.19 seconds.
In the final dominated by Western Isles' Kara Hanlon, again Shetland grabbed the bronze with Jasmin Smith pipping McAllister to the post.
McAllister's final time was 32.96 — a result she was pleased with.
Angus Blance was also in action, finishing as a reserve for the men's breaststroke final.
Earlier in the day, there was disappointment for Orkney's small-bore shooting duo Donald Sinclair and Bobby Spence.
The pair finished fifth in the 50-metre prone team shoot — an event they were bronze medallists in in 2015 and 2017.
Sinclair spoke of his frustration at shooting 599.1 while Spence shot 616.2 for a combined total of 1215.3 — just 2.4 points short of the bronze medal position.
In the afternoon, Spence was back on, this time teaming up with Ross Donaldson in the ten-metre air rifle, finishing ninth.
Orkney's badminton side finished 11th in the team event.
After a tough group stage involving Jersey, gold medal winners in 2017, Greenland, who have made it through to the final, and the Falkland Islands, they finished third, setting up a tie against Gotland in the placing stage.
They narrowly lost that one 3-2 before going onto beat Aland 5-0 in their final placing match.
The county's squash players will conclude their singles matches tomorrow with the final placing matches.
Adam Stanger, Andrew Moar, Andrew Torget and Barbara Balcombe will all be in action while the county's doubles players get their campaigns underway.
Meanwhile, the sailing trio of Joshua Brown, Andrew Leslie and Mark Holbrook continue to race.