news
Special end to Stromness Per Mare celebrations as the Soothenders seal Yule Log victory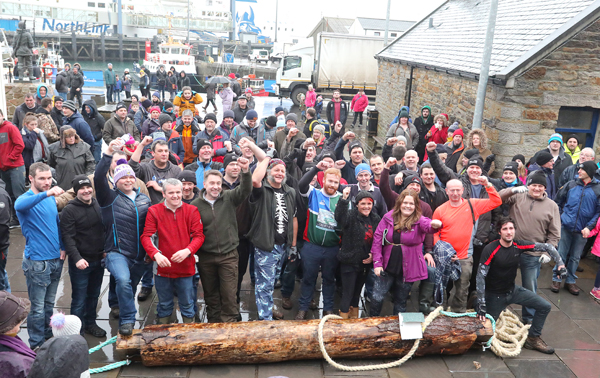 Stromness's Per Mare year, which has seen 12 months of celebrations marking 200 years since Stromness became a Burgh of Barony, ended in a unique fashion, with the Soothenders winning the Stromness Yule Log.
A revival of a unique street game, pitting folk from the north end of the town against those living in the south in a tug of war, the town did battle over a 400kg log.
The event — streamed live on The Orcadian Facebook page — captured the imagination, with a fantastic crowd turning out to witness the spectacle.
After a tense opening few minutes at the Pierhead, it was the Soothenders who took control, quickly retreating back up Victoria Street towards their goal at the bottom of Church Road.
There was resistance from the Northenders, halting the opposition's progress at the Pier Arts Centre and again at Argos, however the Soothenders dug deep, finishing the contest rapidly.
And while the speed of victory came as a surprise — finishing the contest in barely 10 minutes — the buzz and atmosphere around the town was infectious.
Kirsty Groundwater, the town's development officer, said it was a special way to end the town's Per Mare celebrations.
"We wanted to end this brilliant year of celebrations with a real flagship event," Mrs Groundwater, who has been at the forefront of the organisations, said.
"I think it really has paid off. I'm chuffed to bits with how it's gone. To see it come off in such a wonderful way has been fantastic."