news
Skara Brae features in new Royal Mail stamp collection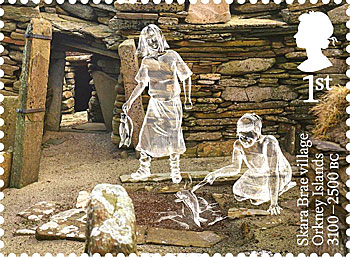 Skara Brae features in a set of eight Royal Mail stamps launched today featuring "some of the most inspiring objects and atmospheric sites of UK prehistory".
According to the Royal Mail, the stamps, illustrated by London-based artist Rebecca Strickson, show how people lived and worked at the sites and used the objects.
As well as the Neolithic village in Sandwick, the set includes the Drumbest horns (Northern Ireland); Battersea shield; the Star Carr headdress; Grime's Graves flint mines; Avebury stone circles; the Mold Cape (Wales) and Maiden Castle hill fort.
For collectors, Royal Mail will provide a special "Skara Brae handstamp" on mail posted before Saturday, January 21.
This can only be obtained by posting at postboxes in Quoyloo (Isbister Bros shop) and at Yeldabrek, Sandwick.