news
"Significant" cuts in ferry fares promised but no timeframe for delivery, says McArthur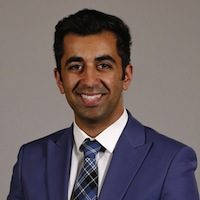 Scottish Transport Minister, Humza Yousaf, has committed to 'significant' cuts in ferry fares on Northern Isles routes, according to Orkney MSP Liam McArthur.
However there remains no clarity as to when any cuts to fares may take place.
With one eye on the forthcoming Islands Bill, the Scottish Parliament yesterday debated a motion "Supporting and Strengthening our Island Communities".
In moving an amendment, Mr McArthur and Shetland MSP Tavish Scott reiterated their calls on the Scottish Government to bring an immediate end to Orkney and Shetland's exclusion from the government's cheap ferry fares scheme and a cut in fares in line with reductions introduced on the west coast routes.
The amendment also called for the decision by Scottish Ministers in 2011 to exclude isles-based businesses from the Air Discount Scheme to be reversed. However, ministers and backbenchers voted against the amendment.
Following the debate, Orkney MSP Liam McArthur said: "I welcome the commitment from the Minister today to deliver "significant" cuts to fares on ferry routes serving Orkney and Shetland. However, there is still no clarity on when this will happen.
"Having been excluded from the SNP government's cheaper ferry fares scheme for the last eight years, the patience of those living and working in the Northern Isles has long since run out. Urgent action is now needed.
"Ministers also must urgently rethink their plans to abolish the board of Highlands & Islands Enterprise. This latest example of centralisation shows a blatant disregard for the needs of the region and the benefits of having an economic agency focused firmly on those needs.
"I hope parliament has a chance to debate this issue in the coming weeks. If so, people in the Highlands & Islands will expect their representatives from all parties, including the SNP, to stand up for the interests of their region."