news
Sheepdog trials return to the county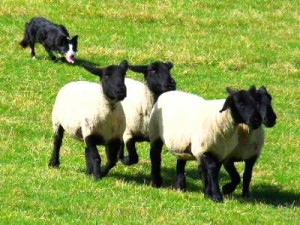 Sheepdog trials will return to Orkney for the first time in over a decade this weekend.
Organisers, Kate Birkett, from South Ronaldsay, and Tom Flett, who farms at Appietown, in Rendall, said that if the event is successful, it is something they would like to see taking place annually.
Tom, a self-confessed novice at the sport, said: "It's a fun thing, and a great spectator sport too.
"We're trying to get as many local people as possible to come along and take part, not necessarily in the full open class, but the basic 'fetch and pen,' which most dogs will do."
Sheepdog handling has been Kate's passion for around six years, when she got her first dog, Tessa, a Shapinsay-bred collie, and she manages to juggle a busy competition schedule between tourguiding, helping out at several farms, working at the mart, and giving dog-training lessons.
The trials will be held at Dalespot, St Ola, tomorrow, Sunday, June 26, from 10am, and members of the public are encouraged to come along.