advertorial
Scottish Government – Life After Cardiac Arrest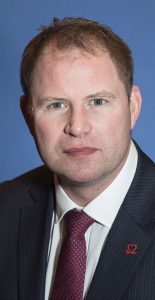 Chest Heart & Stroke Scotland has produced a new resource for survivors and health professionals across Scotland called Life After Cardiac Arrest, which aims to support people who have survived an out-of-hospital cardiac arrest, their families and anyone who has suffered a close family bereavement as a result.
The project was funded by Scottish Government and Chest Heart & Stroke Scotland (CHSS) following the launch of the Out of Hospital Cardiac Arrest: a Strategy for Scotland (OHCA) in 2015. It has been developed in collaboration with the Interactive Web Development Team at the University of Edinburgh, with input from a wide range of individuals and organisations.
Caitrian Guthrie, Cardiac e-Resources project manager at CHSS, explained: "The content of lifeaftercardiacarrest.org has been developed to support people and their families who have been personally affected by OHCA.
"We feature video and audio interviews from people across Scotland who share their personal, out-of-hospital cardiac arrest experiences with us.
"They tell us about how they have coped in hospital and at home, how the OHCA impacted on their physical and mental health, the change in lifestyles involved and, at times, bereavement. An OHCA can have a huge effect, not only on the lives of those who survive but also on their family and friends. This resource is critical in helping people know they are not alone in their journey following an out of hospital cardiac arrest. It looks at the main issues identified as being important to people and sign-posts them to sources of information, advice and support."
James Cant, director at British Heart Foundation Scotland, said: "When someone has a cardiac arrest, their chances of survival decrease with every passing minute. After even a few minutes, if no-one has attempted CPR it is too late — but you can help.
"It's vital that people know what to do in the event of a cardiac arrest. This includes calling 999 immediately, performing CPR and being able to access and use a defibrillator as soon as possible.
"This new film from the Scottish Government shows us that everyone should give CPR a go if someone nearby goes into cardiac arrest. We all have it in us to be life savers and it could be the life of a loved one that you save, as most cardiac arrests occur in the home.
"I'd urge everyone to spend a couple of minutes watching this film and absorbing its message, as it could make the difference between life or death."
To find out more visit bhf.org.uk/cpr