news
Salon owner named Orkney's top young entrepreneur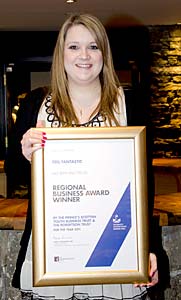 The 22-year-old owner of the Feel Fantastic salon was announced as Orkney's top young entrepreneur at a ceremony in the Highland Park distillery visitor centre on Thursday night.
Leanne Savage, from Rendall, was presented with a £1,000 cash prize and will now be considered by the judging panel to be entered into the national final in Glasgow on November 15.
The runner-up was 31-year-old painter and decorator Colin Stout, from Kirkwall.
The ceremony also recognised the expertise, mentoring advice and inspiration of volunteer, Ms Karen Williams, who was named Orkney's regional Volunteer of the Year.