news
Royal Navy presence in Orkney for anniversary events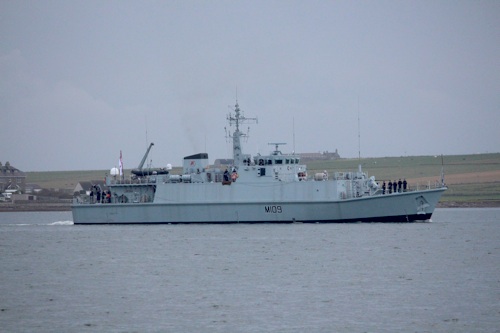 The Sandown-class mine hunter, HMS Bangor, arrived in Kirkwall Harbour this morning for a six-day visit, as a series of events marking the 75th anniversary of the tragic sinking of HMS Royal Oak gets underway.
The arrival of the ship marks the start of a weekend of Royal Navy activity on the islands, including attendance at a service on Sunday in St Magnus Cathedral, and a talk by the Royal Navy Presentation Team on Monday at Orkney Theatre, culminating in a wreath-laying ceremony on board HMS Bangor in Scapa Flow on Tuesday.
Members of The Band of Her Majesty's Royal Marines Scotland will also have a Corps of Drums and Brass Quintet involved in activities during the weekend.
HMS Royal Oak sank in Scapa Flow on October 14, 1939, with the loss of 834 lives after being hit by torpedoes from German U-Boat U-47.
Launched in 1914 and in service in 1916, the Revenge-Class battleship saw service in the First World War, including the Battle of Jutland. The torpedo strikes which claimed the ship and so many lives were delivered barely a month into World War Two.
HMS Bangor arrived alongside Kirkwall Pier this morning, and will remain in port until Monday afternoon, when she will go round to Scapa Flow.
The divers from Northern Diving Group are due to arrive today, and immediately begin their annual visit to the HMS Royal Oak wrecksite.
As well as replacing the white ensign which 'flies' at the stern of the ship, the divers will also undertake the routine yearly survey of the wreck.
Orkney's Sea Cadets will get the opportunity to go on board HMS Bangor this evening, before the ship opens to the public on both Saturday and Sunday from 10am to 4pm each day. Weather dependent, visitors will be able to tour the ship's upper deck and chat to members of the crew.
Senior Royal Navy officers, members of HMS Bangor's ship's company, and personnel from Northern Diving Group, alongside guests and veterans, will attend a special commemoration service at the Royal Oak Garden of Remembrance in Scapa on Tuesday at 9.30am conducted by the Reverend David Dawson.
Rear Admiral John Clink will then embark on the ship to lay a wreath on behalf of the Royal Navy over the wreck.
Further details in The Orcadian, out today.