news
Revised pierhead plans on display this week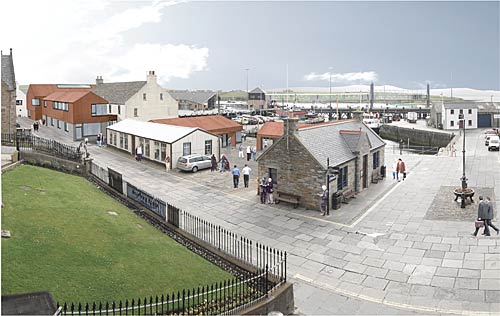 Stromness residents can see how their input has shaped the proposed redevelopments of the pierhead when revised drawings go on display on Wednesday, September 21.
The revised plans, by Malcolm Fraser Architects, will be on public display in the Stromness cash office until October 5, when full planning permission will be sought at the OIC's planning and protective services committee meeting.
The project will see the creation of two new retail units; a new library; a new office space, which will be shared with police; and formal and informal meeting areas.
Key revisions include:
Splitting the retail building into two smaller buildings to help give the historic warehouse building more prominence and improve pedestrian access and 'walk through' space. This new layout creates a series of small squares between buildings, providing linked "sunny spaces" sheltered from the wind off Hamnavoe.
Reducing the length of the new buildings to increase the prominence of the central B-listed warehouse.
The use of bronze cladding rather than Corten (rust coloured) steel for improved long-term maintenance.