news
Return of Orkney Folk Festival a record-breaker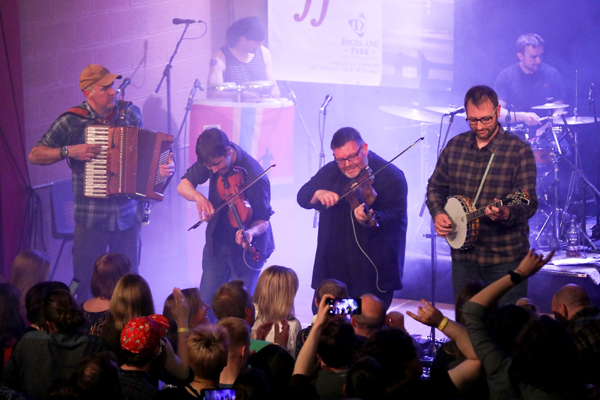 After three long years, the Orkney Folk Festival returns to a full-scale live event this Thursday night, and in triumphant style — breaking all previous ticket records.
For the first time in the event's 39-year history, over 7,000 individual concert tickets have sold in advance of the Stromness-based festival's opening, today, with 17 of the festival's 32 shows sold out.
In addition to record-breaking live audiences, folk fans at home can also tune into this weekend's festivities, with the addition of three recently announced live-streamed festival concerts. Branded the Virtually Orkney Folk Festival, the festival's inaugural hybrid edition builds upon the success of the previous two years' online editions, bringing audiences around the world to Orkney in real time.
One of Scotland's longest-running folk festivals, the Orkney Folk Festival is set to welcome over 50 acts and over 250 musicians to the festival once again. Musicians and singers from throughout Scotland will join artists from England, Norway, Sweden, Denmark, Canada, USA and India in appearing alongside scores of home-grown Orcadian artists in venues throughout Stromness and the Orkney mainland, over May 26-29.
his year's live festival is the first since 2019, and follows two highly successful digital editions that brought a worldwide online audience to Orkney during the pandemic. A number of artists who were originally scheduled to appear in 2020 — some of whom featured on-screen in 2021's Virtually Orkney Folk Festival — have been rebooked and will finally take to the stage for eager audiences this weekend.
As well as 22 shows taking place in multiple venues throughout the festival's hometown of Stromness across the weekend, a further 10 concerts are also set to take place in Birsay, Deerness, Finstown, Harray, Holm, Kirkwall and Sandwick as the voluntary-run event makes its long-awaited live return.
In order to stage such a large event, particularly on the back of two fallow years, the festival gratefully receives generous support from public bodies and corporate sponsors, from throughout the local and national business communities. This year's principal supporters are Orkney Islands Council, Creative Scotland, EventScotland, NorthLink Ferries and Lost Orchards Cider, alongside many individual event sponsors.
The festival also benefits from many thousands of hours donated by hundreds of volunteers, who give their time freely to bring the world-renowned event together. From the twelve-strong year round management committee, and five-person board, to those who might work on just one event in their local community hall, each one of the festival's community team is vital to its long standing, continued and increasing success.
Orkney Folk Festival producer, Bob Gibbon said: "I really can't believe that it's here — and it's going to be better than ever. There have been dark times, quiet times, but now we are really going to go for it. We can't wait to welcome audiences back to Stromness and the festival in person, and to receive funding support to allow us to do some parallel live streams is brilliant — we are so grateful to the funding bodies who have helped make this a reality. We got so much good feedback from our Virtually Orkney Folk Festival last year, it is great that we can keep this side of the festival going alongside the live event. Being able to reach out to those who can't get to Orkney, or who find it difficult to leave their home for whatever reason is a real step forward in accessibility and we're pleased to be taking steps forward to becoming a far more inclusive festival. Come away in!"
Orkney Folk Festival chairwoman, Eileen Cromarty added: "There's real excitement in the air to have the festival return in such great style this year.  All our local and visiting acts are thrilled to be taking to the stage again, and I'm sure audiences will be particularly enthusiastic to see them.
"It's been a tough time for the music industry and festivals in particular, but we've had the opportunity to learn from our virtual efforts in 2020 and 2021, and the feedback was overwhelming positive in terms of giving those folk who can't make it to live events the opportunity to watch online. We're really pleased to be offering the chance to view some of the festival live-streamed again this year to a global and local audience.
So whether you're listening to a spontaneous session in the new festival bar at the Stromness Community Centre, or enjoying a livestreamed concert from the comfort of home – there's opportunity for everyone to support the festival and celebrate Orkney's amazing musical showcase."
For further information, head to orkneyfolkfestival.com, and follow the festival on Facebook, Instagram and Twitter. A sampler playlist of the 2022 festival line-up is also available on Spotify.