news
Record-breaking summer for Orkney's historic sites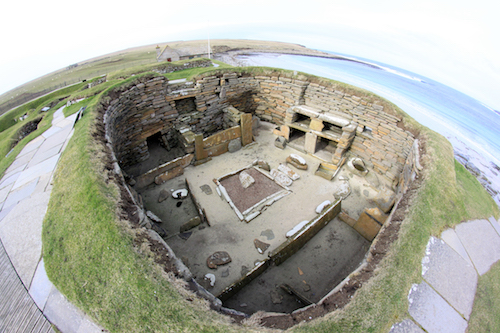 It's been a record-breaking summer for Orkney's historic sites, according to the latest visitor figures from Historic Environment Scotland (HES).
The figures, which were released earlier today, Friday, show the summer season saw Skara Brae record its busiest ever season, already exceeding visitor totals from last financial year.
According to HES, 104,224 people visited the famous site between April and September 2017 — a 19 per cent increase on the same period last year.
The Broch of Gurness and Bishop's and Earl's palaces in Kirkwall also broke their existing visitor records, seeing surges in footfall of 34 per cent and 17 per cent respectively. Maeshowe also had an impressive showing, seeing a 6 per cent rise in visitors.
The announcement comes as Scotland celebrates Heritage Awareness Day, a day dedicated to showcasing the country's rich and diverse heritage and encouraging individuals, organisations and communities all over Scotland to share and celebrate heritage in all its different forms.
This summer has also seen many visitor records broken across Scotland as a whole, with historic sites in the care of HES welcoming over 3.8m visitors in the period from April to September 2017, an impressive overall 20 per cent increase in footfall on the same period last year, making it the busiest season on record.
August 2017 saw over 870,000 visitors flocking to Scotland's iconic historic sites, making it the busiest individual month ever recorded.
Alex Paterson, Chief Executive of HES, said: "This year's summer season has surpassed our previous visitor records, as we welcomed over 3.8m visitors to our historic sites across the country – an excellent 20 per cent increase on last season's showing.
"It is fitting that we celebrate this success on Heritage Awareness Day, the first-ever national celebration of heritage and the contribution it makes to communities across the country.
"We've responded to the increasing interest in Scotland's historic environment by extending opening at seasonal sites across the country throughout October, giving people further opportunity to explore the wealth of history that Scotland has to offer and to uncover the hidden historical gems on their doorstep during the Year of History, Heritage and Archaeology.
"From Edinburgh Castle to Skara Brae, historic sites across Scotland are continuing to draw record numbers of visitors, which is further demonstration of the value of Scotland's historic places within the country's wider tourism offering."