news
Quiet reflection will mark anniversary of HMS Hampshire and Laurel Crown losses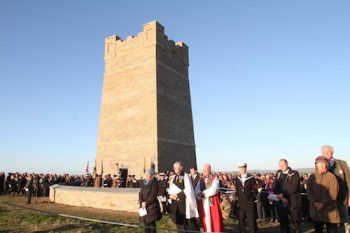 The 101st anniversary of the loss of HMS Hampshire will be marked next month at Marwick Head with a period of quiet reflection and a two-minute silence.
Last year a major event was held to commemorate the centenary of the warship's loss, in which 737 men died.
Relatives travelled many miles to join Orcadians during an evening service, and for a weekend of events which was attended by HRH The Princess Royal.
The 2016 service was a high-profile occasion and saw the official unveiling of the HMS Hampshire wall, bearing the names of all the men who were lost, built alongside the restored Kitchener Memorial.
This year volunteers from Orkney Heritage Society's Kitchener & HMS Hampshire Memorial project committee and some of the participants in last year's event will gather on Monday June 5 to carry out some improvements to the ground around the memorial – raking stones and planting grass seed – before gathering quietly together to commemorate the men lost.
Neil Kermode, committee chairman, said: "Our project to better remember the men of HMS Hampshire culminated in a wonderful service last year when relatives and local folk gathered in brilliant sunshine at Marwick Head.
"We feel it is important to continue our remembrance of the 737 with a low-key event this year. Everyone who wishes to join us for a common private reflection will be welcome."
The work party will start at 7.30pm on Monday June 5, and will gather for the reflection in time for the two-minute silence at 8.45pm, the time of HMS Hampshire's sinking.
Thoughts will also turn to the nine men of HM Drifter Laurel Crown, including Orcadian George Petrie, who died on June 22 1916 and who are also commemorated on the wall.
There is more about HMS Hampshire and the memorial on Facebook (@Kitchener.Memorial), Twitter (@kitchenerorkney), via a blog at kitchenerhampshire.wordpress.com/ and at the website, hmshampshire.org/.