news
Project recording cathedral graffiti awarded £10k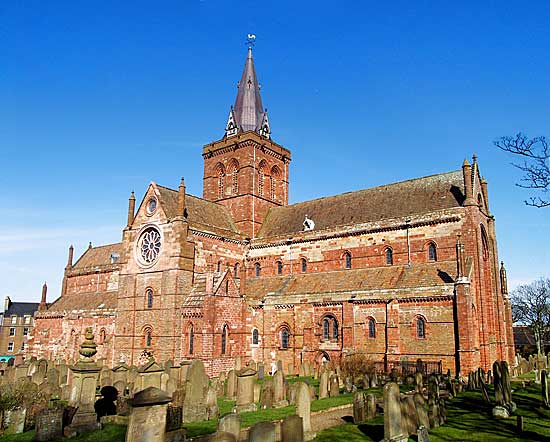 Orkney Archaeology Society (OAS) was delighted to announce, this week, that it has received a National Lottery grant of £10,000 for its St Magnus Graffiti Project.
Made possible by money raised by National Lottery players, the project will be working with local volunteers to record the graffiti inside and outside St Magnus Cathedral in Kirkwall.
Supported through the Heritage Lottery Fund (HLF), the project will train local volunteers of all ages in the skills required to find, document and record the marks and graffiti in the building that has been left throughout the ages. Some is already known, such as the mason's marks, but there is a lot which hasn't yet been found and this project will be looking very carefully both front of house and behind the scenes to get as full a record as possible.
The project will start with hands-on workshops, run by local professional archaeologists from the Archaeology Institute at the University of Highlands and Islands, to train volunteers in the necessary skills, including the use of equipment and a full briefing about the building and how to work safely within it. Once trained, volunteers will be able to work in the cathedral whenever it is open to the public and will be responsible for surveying specific areas. Any graffiti or marks found will be fully recorded by the volunteers and added to the record of the building.
"This is a really exciting project and something a bit different for the society," Martin Carruthers, chairman of OAS.
"We were approached by Fran Flett Hollinrake, cathedral custodian, to see if we would be interested in doing this work and we are really pleased to be able to take it forward. St Magnus Cathedral is such a well-loved building in Orkney, it's a fabulous opportunity to learn more about the people who have made their mark their over the centuries.
"As well as the recording work in the Cathedral we will also be training a group of volunteers in the skills to record buildings and it would be great if these skills went on to be used in other historical buildings across Orkney."
Lucy Casot, head of HLF Scotland added: "St Magnus Cathedral graffiti project is a great project as it shows clearly how local heritage can be a catalyst for lots of different activities and bring people together behind a common purpose. HLF is pleased to support Orkney Archaeology Society in its plans to recruit volunteers of all ages, offer skills training and, thanks to National Lottery players, enable people to enjoy the history on their own doorstep."
Workshops are now being planned for January 2019 and more details on these will be shared as soon as they are available.