news
Prize-winning performance from Orphir's young engineers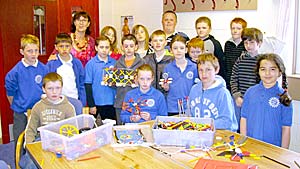 Orphir Primary School has been recognised for its performance in the STEM (science, technology, engineering and maths) challenges at a young engineers events at the Glasgow Science Centre.
The attending pupils came away with a prize of £250 for their efforts.
Thanks to their design of a coconut cutter, to assist the community of Kerala, as part of a class project on India, representatives from the primary 4-7 classes at the school were shortlisted for the Scottish Council for Development and Industry event, "The Celebration of Engineering in Science".
Nine-year-olds Tia Whitton, Joe Sinclair and Harry Baird and Mia MacIvor, both aged ten, travelled to Glasgow, along with headteacher Bruce Pilkington and principal teacher, Caroline Critchlow.
The youngsters were chosen because of their engineering expertise, thanks to workshops, and the formation of a Young Engineers' Club, with the aim of encouraging children to become young engineers.