news
Plaque unveiled in memory of historic aircraft landing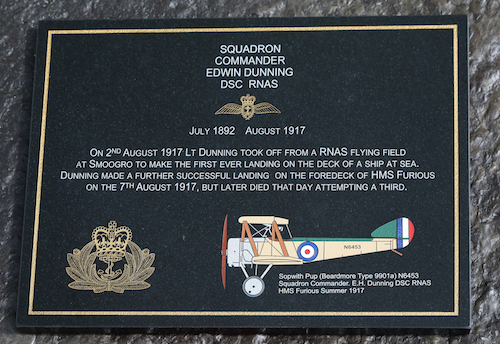 A special plaque was unveiled near Scapa beach earlier today, Wednesday, celebrating 100 years since Edwin Dunning landed an aircraft on a moving ship, in Scapa Flow
On 2 August 1917, Squadron Commander Dunning landed a Sopwith Pup biplane on HMS Furious in Scapa Flow, in what has proved to be a landmark moment in aviation history.
Today's ceremony was also somewhat poignant, as Dunning tragically died a week after first completing the feat when, attempting his third repeat landing, his aircraft lost power, made a hard landing and was swept overboard by strong winds. Dunning was knocked unconscious and died.
The plaque was unveiled during a ceremony held just after 11.30am this morning, by Rear Admiral Fleet Air Arm Keith Blount, Assistant Chief of Naval Staff (Aviation, Amphibious Capability and Carriers), who said he was "honoured and privileged".
During the well-attended ceremony there were a number of readings and prayers, as well as two flyovers from a single Royal Navy Hawk T Mk 1 aircraft. On its second run, the jet made a pass in landing configuration, with wheels and wing flaps extended.
As late as yesterday evening, it was announced that the navy's new aircraft carrier, HMS Queen Elizabeth, would also be paying a visit to Scapa Flow. The massive vessel remained in the flow for the majority of the ceremony.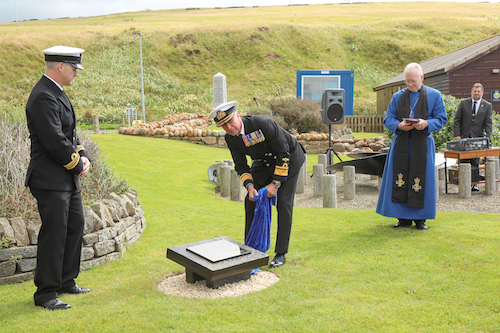 Shortly after the ceremony Rear Admiral Blount commented: "It is a very poignant day in the history of the Fleet Air Arm, the Royal Navy, and, of course Orkney.
"Today doesn't only mark the 100-year event of Squadron Commander Dunning's landing, it was also extremely moving to see the next generation of aircraft carrier sailing on sea trials in the bay — that starts a new chapter in maritime aviation.
"Today has seen a great combination of the new and old, but I do wonder what Squadron Commander Dunning would have thought had he been able to look out and see the Queen Elizabeth there, because it was he who so genuinely sowed the seed for what could be possible in launching aircraft at sea.
"Those of us in the Fleet Air Arm that are still proud to serve are standing on the shoulders of giants, and Dunning was one of the greats, there is no questions about that."
jetedit from The Orcadian on Vimeo.