news
Orkney sends book of hope to Norway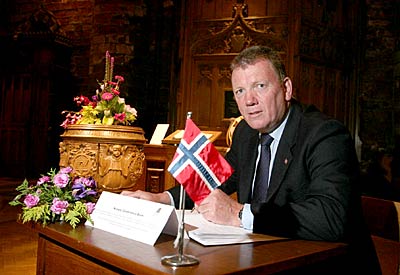 A book with messages of hope and sympathy from the people of Orkney has been sent to Hordaland, the county's partner region in Norway, one month after the tragic loss of life in the July 22 twin attacks.
The book of condolence, which has been available for signing in the St Magnus Cathedral for the past four weeks, will be sent directly to the Convener of Hordaland, Mrs Torill Selsvold Nyborg, by OIC convener, Councillor Stephen Hagan, on behalf of the Orkney people.
Councillor Hagan, said: "We have a special bond with the people of Hordaland and have shared celebrations of music and culture with them for many years – so there was a heartfelt need in Orkney for us to share with them in their sadness and loss.
"I hope that the book helps to reinforce that the families and friends of the young people who lost their lives or were affected by the tragedy are still very close in our hearts and minds here in Orkney, and hope that this offers some comfort."