news
Orkney nomination in Global Aquaculture Awards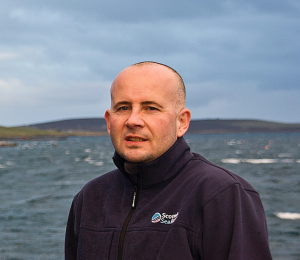 SCOTTISH Seafarms regional production manager for Orkney, Richard Darbyshire, has made the shortlist for the People's Choice category of the Global Aquaculture Awards for his 10-year contribution to salmon farming on Orkney – the one award category that will be decided by public vote rather than judges.
He's up against one other Scottish entry – a supplier based in Dundee – along with nominees from France, Panama and the USA.Voting will close at 5pm on Tuesday, May 28, with the awards presentation taking place the next night.
As mentioned in the shortlist description Mr Darbyshire recently celebrated 10 years as the company's regional production manager in Orkney.
He arrived in the role having inherited five existing salmon farms recently acquired from another company. His first priority was to bring each farm up to the company's standards for infrastructure, equipment, staffing, health and safety, training and development.
It goes on to say that with the local knowledge gained in the process, he then worked with colleagues to research other good farming locations, subsequently applying for three new consents: Wyre, which went live in 2015, creating six new jobs, and went on to win M&S Outstanding Producer of the Year 2018; Westerbister, which went live in 2016, creating a further six new jobs; and Lober Rock, which will also create six jobs when it opens this autumn.
With the opening of this eighth farm, what began as workforce of nine will grow to 50 full-time jobs with an average salary (£37,215) significantly above both the Orkney (£26,260) and the Scottish national average (£27,404).
By championing Scottish Sea Farms' Heart of the Community initiative, and by actively encouraging applications, Richard has also played a key role in 63 grants being awarded to Orkney causes, providing a total boost of £228,265.
You can find out more about the category online and place a vote at www.aquacultureawards.com/vote/