news
Orkney MSP marks Fairtrade Fortnight in Holyrood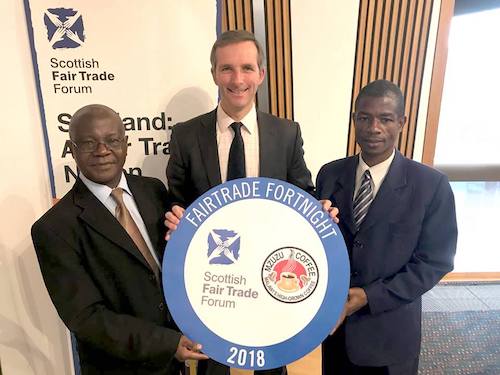 Orkney MSP Liam McArthur has marked Fairtrade Fortnight in Holyrood this week by meeting with coffee farmers from Malawi to discuss the importance of fairtrade, including the work of Orkney Fair Trade Group.
Fairtrade Fortnight, which began on 26 Feb and runs until tomorrow, Sunday, is an annual promotional campaign organised and funded by the Fairtrade Foundation to increase awareness of Fairtrade products.
To mark the occasion, Mr McArthur attended the Cross Party Group on Fair Trade this week where he met Bernard Kaunda and Christopher Gondwe of Mzuzu Coffee Planters Co-operative Union in Malawi.
Orkney's MSP, who is also the Convener of the Scottish Parliament's Cross Party Group on Malawi, took the opportunity to find out more about the Co-operative's plans to build on the success of Mzuzu Coffee, whose membership consists of 25 per cent female farmers, and to discuss the importance of fairtrade for their farmers.
Following the meeting, Mr McArthur said: "The Fair Trade movement continues to go from strength to strength. Fair Trade Fortnight has helped support that success by providing more opportunities to spread the word about the benefits of fair trade, not least the importance of ensuring producers are paid a decent price.
"It was fascinating to meet Bernard Kaunda and Christopher Gondwe of Mzuzu Coffee Planters and learn more about the work they have been doing to build on the popularity of their product. As a result of their success, Mzuzu has been able to support social programmes such as building teachers' houses, processing facilities and health facilities back in Malawi.
"Orkney, of course, enjoys close ties with Malawi as well as a strong track record in supporting fair trade. This has been a genuine community effort, but credit is certainly due to the leading role played by the Orkney Fair Trade Group whose fair trade initiatives, including work with local schools, has helped raise awareness of and support for the benefits of fair trade."