news
Orkney interest 'unsurpassed' at major tourism trade show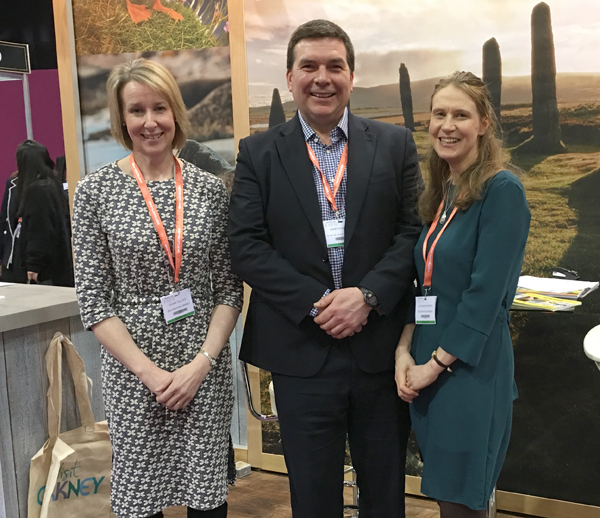 Orkney's tourism chief says interest in the islands was "unsurpassed' at a major industry event held in Glasgow this week.
According to Elaine Tulloch, chief executive of Destination Orkney, tour operators attending the VisitScotland Expo trade show booked almost every appointment her team were able to offer.
Regarded as Scotland's flagship business-to-business travel trade event, the two-day Expo attracts representatives from all sectors of the international tourism industry, including coach tour operators, group travel organisers, tourism product wholesalers, specialist and independent tour operators and travel media.
Ms Tulloch said: "We spoke to tour operators already sending guests to Orkney and to operators who want to introduce an islands tour into their brochures and websites.
"The most positive aspect is that the vast majority of operators are planning to bring couples, families or small groups of six to 12 people to Orkney and to stay for several days."
According to Ms Tulloch, this industry shift towards individuals and small groups represented a huge opportunity locally.
"Operators are looking for something different for their individual clients to experience. Their guests are interested in all types of accommodation, from hotels and guesthouses, to B&Bs and self-catering, and most will arrive with their own or hired cars.
"They have the flexibility to explore areas off the busy, well-beaten tracks and taking a local guide with them or booking a private or scheduled tour is a popular way to do this."
She added: "Once operators understand how much there is to see and do in Orkney and how many islands there are, in addition to the wonderful food, drink and crafts we have, they appreciate why we recommend three to four-night stays as a minimum for their guests."
Ms Tulloch said that Destination Orkney hoped to build on the opportunities the travel trade industry was now offering to Orkney by running future workshops for tourism members locally.
"We'd like all our members to be aware of the potential this section of the industry presents and to equip them with the necessary tools and knowledge they will need if they would like to work effectively with the travel trade," she explained.
Joining Ms Tulloch on the Orkney stand at the Expo were travel trade consultant, Kathleen Hogarth, Destination Orkney members Hazel Aim and Fidra Sym of Orkney Heritage Tours, and Destination Orkney chairman and hotelier Gareth Crichton.
Expo was also attended by Pentland Ferries, NorthLink Ferries, John O' Groats Ferries and representatives from Shetland, forming a strong presence for the Northern Isles.