news
Orca rescued in Sanday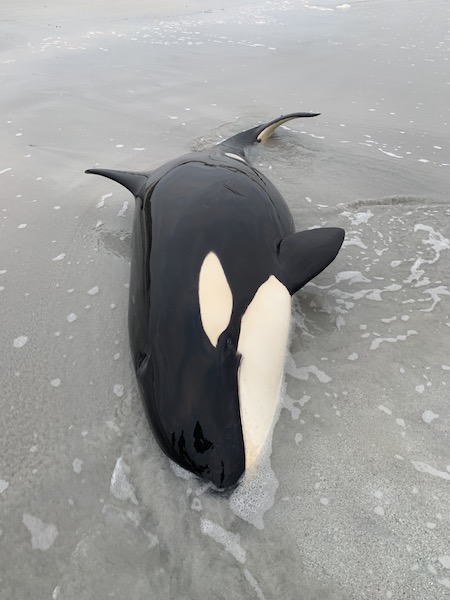 An Orca was rescued after it washed up at the Bay of Newark in Sanday this morning, after the British Divers Marine Life Rescue (BDMLR) helped it back out to sea.
Early this morning the BDMLR were alerted to a live stranded dolphin at the Bay of Newark, near Tres Ness.
Sanday folk Colin and Heather Headworth happened to spot the animal lying in the surf from their house, and called fellow Sanday resident and BDMLR area coordinator Emma Neave-Webb who notified the small local team.
On arrival to the stranding site, medics found the animal was in fact a young orca, around 3.4 metres in length and aged three to four. Believed to be a young male, he was said to be in good condition, but was stuck on his side with the tide quickly coming in.
With residents coming to aide, the BDMLR immediately set about up-righting the animal to aid breathing and to ensure the blowhole was out the water.
As the tide came in and more water helped to lift the young animal, the Medics were able to rotate it to face the incoming sea and slowly move the new dolphin stretcher under the animal. 
After about an hour and with help from local residents to stabilise the orca, it suddenly took matters into its own fins and made a move to swim off.
Unable to hold the animal any longer, the stretcher was lowered and the orca swam forward straight out towards the open sea.
After monitoring for an hour, medics were confident the animal was no longer in the location and are hopeful it will stay out, and will continue monitoring the coast tomorrow just in case.
The BDMLR thank medics Russell Neave and Imogen Sawyer, and Sanday residents Colin and Heather Headworth, Cath Swift and Simon Oldfield, Anna Halford and Martin Sawyer for all your assistance as well as HM Coastguard for advice.