news
Operations cease at Kirkwall abattoir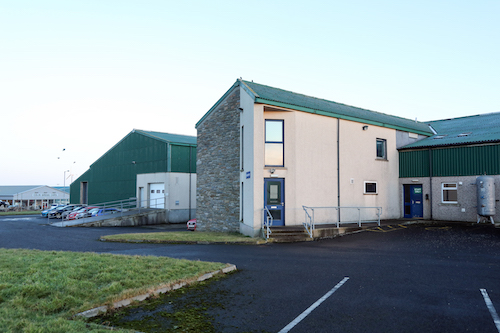 Operations at the council-owned abattoir at Hatston, Kirkwall, have ceased effective immediately after the local authority decided it could no longer continue to provide access to the facility.
The abattoir had been leased and operated on a reduced basis since 2012 by a consortium of local butchers known as 'Orkney Meat Processors Ltd' (OMPL).
Today's decision has been taken in conjunction with the consortium and there will be ongoing discussions with OMPL over the next few months to consider options for the longer term.
The council has said the abattoir is too big for current and forecasted throughput and much of the plant and equipment is now in need of significant re-investment, despite nearly £1m being invested by the local authority in the last five years, in an attempt to maintain the operation up to this point.
It is anticipated that OMPL butchers will make arrangements to ship livestock south for slaughter before products are returned to Orkney to meet local demand.
The council's director of development and infrastructure services Gavin Barr said: "We have taken this decision based on a number of factors, primarily that key resources like technical staff time are simply no longer available to us.
"We've worked hard with OMPL and spent a great deal of money over the last five years to keep the facility running, but this cannot continue in the long-term, with substantial further investment needed to bring the facility up to the standard that we feel is necessary to continue to provide this service.
"The current arrangement was never going to provide a permanent solution and we can look forward with a clean slate to any lower-cost opportunities that our Challenge Fund might present and welcome the positive approach expressed by OMPL on these issues and their willingness to work together on these.
"We are confident in the alternative arrangements that local butchers have put in place and there should be no knock effect to meat supplies in Orkney."
Graham Sinclair, the chair of the council's development and infrastructure committee added: "The council has supported the continuation of the service for as long as we could in the hope that a more permanent and financially viable solution could have been found — we're now at the point where our options have run out.
"Even with the best efforts of both the council and OMPL, we haven't been able to identify a solution at this point — but we remain hopeful that the Abattoir Challenge Fund will help us identify that."
In December, the council launched an Abattoir Challenge Fund, which is aimed at encouraging the private sector to become directly involved in developing a solution to the challenge of providing sustainable abattoir services in Orkney. The fund remains open for applicants.