corona

virus
Omicron variant 'moment for national collective vigilance'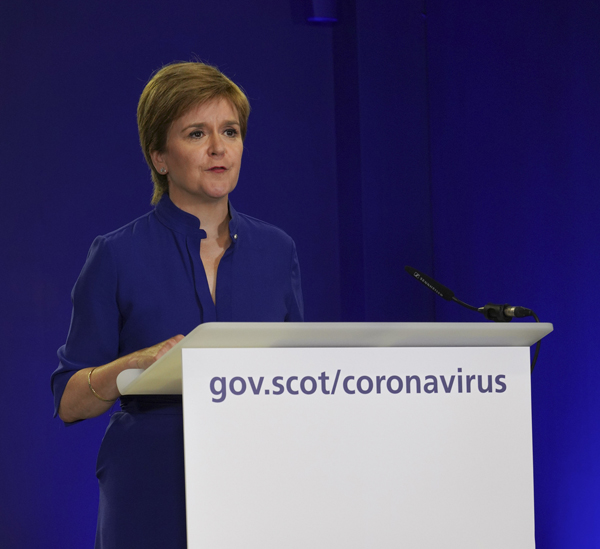 The discovery of the Omicron variant of the COVID-19 virus is the "most challenging development for some time" in the pandemic, Scotland's First Minister has said.
Six cases of the new virus variant has been identified in Scotland so far — four in NHS Lanarkshire and two in NHS Greater Glasgow and Clyde.
In a press briefing today, Nicola Sturgeon has urged people to increase their compliance of current public health measures, saying that "this is a moment for national collective vigilance".
Vaccinations remain the "most important line of defence", she said, but she also stressed the importance of the use of face coverings, regular lateral flow testing, hand and cough hygiene, working from home and appropriate ventilation, to combat against the new variant.
Ms Sturgeon said: "It is always important and we have learned over these past two years in the face of new developments in this virus, to prepare for the worst and act on a precautionary basis.
"But that does not mean that we are not hoping for something considerably short of the worst. We are still hoping for the best and hoping that our developing understanding of this variant will reduce rather than increase our concern.
"I very much hope that additional protections can be avoided and while we will act on a precautionary basis, we will always seek to act out at all times in a proportionate manner."
Research is still being undertaken on the Omicron variant — which was first discovered in southern Africa — but early indications are that it might be more transmissible than the dominant Deltra strain.
However, she did say that there was no evidence that the symptoms of Omicron was different from Delta and the disease caused is any different.
Scientists are also working to establish what impact this new variant will have on the effectiveness of vaccines.
New recommendations are set to come from the joint committee on vaccination and immunisation (JCVI) is set to be announced this afternoon, and this will guide the Scottish Government on the shape of the booster programme.
Ms Sturgeon said that even if current vaccines were less effective against the new variant, that was not the same as no effectiveness, and urged more people to come forward and become double vaccinated.
She also urged travel restrictions to be tightened and called on a four nations approach in order to prevent the importation of the virus from abroad.