news
OIC supports calls for emergency tugs rethink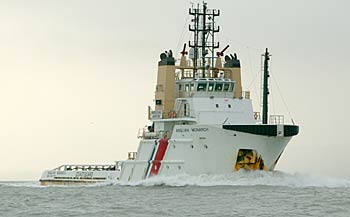 Orkney Islands Council's convener, Councillor Stephen Hagan has added to criticisms from within the UK government, and from island local authorities and Orkney and Shetland's MP, on UK Government plans to end the contract for emergency tug  (ETV) cover in Scotland's northern waters from September 30.
Councillor Hagan said: "The UK Government is ignoring concerns which have been made very clear from the outset, from all three island communities in Scotland and wider afield, and their respective political leaders.
"Our concern remains that there is not the resources and frameworks in place for the shipping industry to step in and provide ETV cover in our waters.
"This concern is reflected in a report by their own transport select committee on this subject.
"It is irresponsible for the UK government to continue with these plans – they pose an unacceptable level of risk to lives and to the taxpayers' pocket in terms of the cost of any environmental disaster where delays in response lead to an exponential cost of recovery.
"It is the responsibility of the UK Government to ensure ETV arrangements are workable, and the proposals not to renew current provision by the end of next week are just unacceptable."