news
OIC launches composting initiative with discount on digesters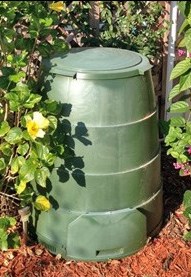 Orkney Islands Council is encouraging more folk in Orkney to turn their food waste into garden compost, with the launch of a new initiative.
A limited number of food and garden waste digesters, called Green Johannas, are being offered at special rates, or completely free, by the council.
Fifty Green Johannas are available to residents of Orkney Mainland and the linked South Isles for £25 with free delivery, a considerable saving on the usual retail price of £119.99.
A further 40 will be provided completely free of charge to people living in the North and South Isles, who agree in return to keep a record of the food waste they recycle into compost.
OIC has said the use of the digesters will give people the opportunity to both recycle leftover food and enrich the fertility of their gardens, while saving the the county money when shipping waste to Shetland for disposal.
Green Johannas are supplied by Great Green Systems and use a 'hot composting' process to recycle a mix of garden and food waste – including cooked food, bones, meat and fish – into a natural organic compost.
Jayne Venables, Orkney Islands Council's Waste Strategy Officer, said: "A study last year showed that on average, almost 40 per cent of the content of household bins in Orkney is made up of food waste.
"As a result, a huge amount of food ends up in the waste we ship to Shetland for disposal. Each tonne of waste sent north for incineration costs the council around £150. We're looking to reduce costs – but we also know that many people are keen to recycle as much of their household waste as they can.
"Using a Green Johanna to dispose of food waste can be a really powerful ally in reducing the amount of rubbish being thrown into your bin – and you end up producing a great compost for your garden at the same time."
Jayne added: "We're delighted that Great Green Systems have offered to supply 50 Green Johannas at a much reduced rate to residents of the Mainland, Burray and South Ronaldsay on a first-come, first-served basis.
"Our colleagues at Orkney Zero Waste have come up with a similar arrangement for people living in the North and South Isles.
"There are fewer recycling opportunities for folk in the isles, so it seems fair that the first 40 to apply will get their Green Johannas free of charge – if they agreed to keep a simple record of the food waste they turn into compost."
More information about Green Johannas can be found here. 
Residents of Orkney Mainland, Burray and South Ronaldsay can order a Green Johanna for £25, complete with a kitchen caddy and free delivery, by visiting: https://www.greatgreensystems.com/promotions/orkney/
Residents of the North and South Isles can request a Green Johanna completely free of charge by contacting Andy Bowman from Orkney Zero Waste by email: ozcompost@yahoo.co.uk