news
OIC councillor helping to create 'next generation of civic leaders'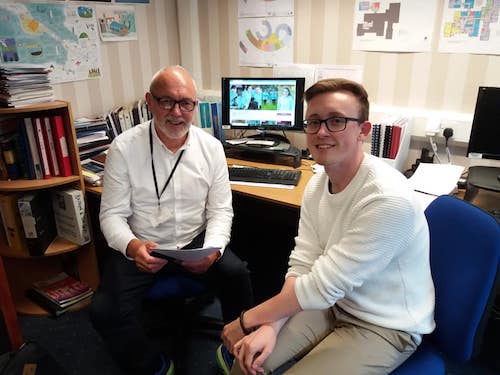 A new report, focused on cultivating the next generation of civic leaders in Scotland, has been launched with the help of an Orkney Islands Council councillor.
Councillor John Ross Scott and student Kristopher Leask will today launch their national Being Heard: Helping To Create The Next Generation of Civic Leaders in Scotland' report in Edinburgh.
The authors say the 56-page report, drawn up over the past year, is being heralded as one of the largest studies ever undertaken into how young people engage with decision makers within all 32 Scottish Councils.
It discloses a disconnect in some authorities between young people and councillors, highlights how political parties can work harder to ensure more young people stand for office by developing a system used in Norway and highlights key initiatives being used in Scotland today that could be shared across authorities, and includes interviews with young people and adults in the front line.
Among those adding support to the report are Maree Todd MSP, minister for children and young people; chairman of CoSLA's children and young people board, councillor Stephen McCabe, chairwoman of the Scottish Youth Parliament Suki Wan and Scotland's children and young people's commissioner Bruce Adamson.
Prior to leaving Orkney, councillor Scott said: "It has been an interesting exercise and one that I hope will make decision makers across the country sit up and do better when it comes to engaging with and listen to what young people have to say.
"I am delighted that politicians, the press and most importantly members of the Scottish Youth Parliament from across Scotland have taken a keen interest in the report.
Kristopher, a 19-year-old second-year student at St Andrews University, from Hinderafiold, Smerquoy, Grimbister, was equally enthused. He said: "I have really enjoyed the experience of bringing the report together with John. Originally we planned to do a report on young people engagement in Orkney but things just grew and grew.  We now hope to start undertaking an Orkney version in February."
As well as taking part in the launch at the Convention of Scottish Local Authorities  (CoSLA) headquarters in Edinburgh this afternoon, John and Kristopher — as a result of their report — will be attending a reception for young people from Orkney, Shetland and the Western Isles at the Scottish Parliament tonight and the annual Young Scot Youth Awards in the SECC in Glasgow tomorrow night.