news
Odinstone heifer triumphs at Shapinsay Show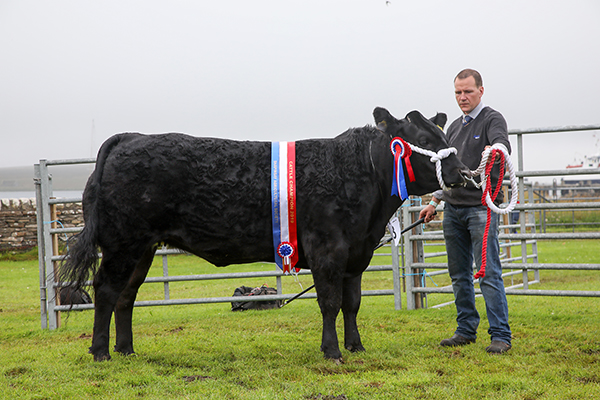 Today's Shapinsay show culminated in a Limousin cross in-calf heifer shown by J. Leslie, Odinstone taking the top cattle prize.
With a great buzz around the show park, the show's cattle section was the last section to finish on an event that refused to have dampened spirits, despite a very heavy shower this afternoon. With plenty of hussle and bustle around the show yard, poultry, horse, sheep, goat, dog and pet competitions were all also held alongside trade stands and machinery.
The winning cattle exhibit, named Lady Million, was bought at the Christmas Classic sale at Thainstone last November, with owner, Frazer Leslie, purchasing her from his brother-in-laws Craig and Jack Henry from the Heads of Auchinderran, Keith.
The winner of the show's horse section was a Matilda, an eight-year-old Traditional Irish Cob mare, shown by Paul Hollinrake and Mel Barker, from Sandsend, while a pure Texel two-crop ewe, shown by Emma Rendall, from Braefoot took the top prize in the sheep section — the third time in a row a sheep from Braefoot had come out on top at the show.
The poultry section was won by a 13-month-old Jersey Giant cockerel, named Fernando and owned by A. & V. More, from Veantro. A. & V. More also came out top in the goat competition, with their Saanen cross Anglo-Nubian goatling, Rosie, taking the section.
The winner of the dog section was Benjamin Franklyn, a Border Collie, owned by A. & V. More, from Veantro, while the top prize in the pets section was a New Zealand White cross English rabbit called Sooty, shown by Bethany Hall.
For a full report from the show, see next week's edition of The Orcadian.