news
Next phase of Kirkwall THI announced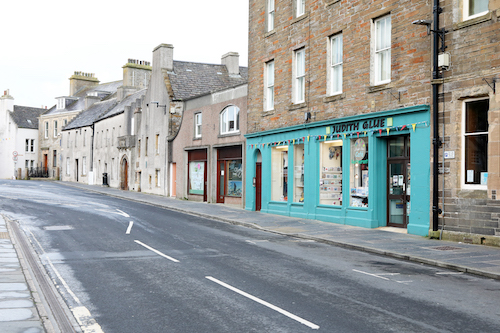 The second phase of works under the Kirkwall Townscape Heritage Initiative (THI) and the Places and Spaces project is due to get underway at the beginning of next month.
Orkney Islands Council is reporting that the works include new paving outside the Orkney Museum, a new parking area outside the former Spence's newsagent and new paving into Victoria Street.
This will take place from September until February, with work suspended through the whole of December to support shopping on the street during the festive period. Free parking of up to one hour will apply as usual in metered car parks over the winter period.
Tankerness Lane will be closed to vehicles throughout the works, with one-way systems in place at various times on Broad Street and Palace Road — with Victoria Street closed to vehicles for approximately five weeks from 6 January 2020. Pedestrian access will be maintained throughout.
The council has said the key aspects of the Place and Spaces project are to improve the area at the bottom of the Strynd and top of Castle Street, provide a new path to the war memorial to enhance it as a place to stop and reflect on the significance of the monument and improve the head of Victoria Street to encourage more people into this part of the town.
Depute council leader, councillor Leslie Manson, said: "The works carried out in Kirkwall's town centre through our Townscape Heritage Initiative Scheme have given our streets and buildings a much-needed new lease of life, whether that be improvements to the shop fronts or the attractive new paving at the head of Broad Street.
"This latest phase is aimed at improving the entrance to Victoria Street to encourage more shoppers and visitors to take a wander down this street — a long-held aspiration of the businesses that are situated there.
"There will, of course, be some inevitable disruption, but we've worked hard to ensure that this is kept to a minimum, including suspending works for the Christmas period. I look forward to seeing the improvements that are made and the effect these have on our historic streets."