news
New strike date for Kirkwall Airport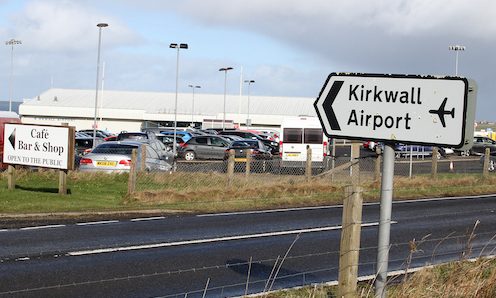 An on-going dispute between Highlands and Islands Airports Ltd (HIAL) and air traffic controllers (ATCs) will see Kirkwall airport closed to air traffic on Monday July 22.
A recent attempt to resolve the dispute, which arose over pay, failed, with the union representing the ATCs, Prospect, rejecting HIAL's latest offer on June 28.
HIAL has said the offer rejected by Air Traffic Controllers (ATCs) included a "retention allowance" that would have seen them benefit from an additional £10,000 over a five-year period.
At the recent meeting, Prospect presented a counter-offer that was hoped to be acceptable but, according to HIAL, it significantly exceeded the flexibility and affordability of a publicly-owned organisation.
In light of the announcement of the new strike dates, Prospect has said there is nothing they can currently put to their members so have served notice of the one-day strikes to come.
David Avery, Prospect negotiations officer said: "While we will seek to avoid disrupting major events as much possible, any strike action is disruptive by its nature, particularly during the school holidays.
"We would like to reiterate that we have been seeking to resolve this dispute for more than a year and this action is only being taken as a last resort."
Inglis Lyon, HIAL's managing director said: "We are dismayed that Prospect has announced further days of strike action and apologise sincerely to our customers, passengers and local communities for the continued disruption. It is disheartening to have received a counter-offer from Prospect that is beyond our affordability.
"Over the past eight months, we have discussed various options with the union and have been clear throughout that any proposal must be affordable and within the terms of Public Sector Pay Policy. Prospect are aware of HIAL's budgetary restrictions and our latest offer constituted compromise to accommodate trade union demands within the bounds of the pay policy.
"We remain committed to resolving the dispute and our latest offer of a retention allowance of £10,000 over a five-year period remains on the table. The continued industrial action is having a significant impact on our communities and the airlines operating from our airports. We would encourage Prospect to revisit the offer and bring this dispute to an end."
The new strike dates will see Inverness Airport closed to traffic on July 21, Kirkwall and Sumburgh airports closed on July 22 and Stornoway Airport, Benbecula Airport and Dundee Airport closed on July 23.
Prospect has said the work to rule previously announced will also continue.