news
New Kirkwall book launched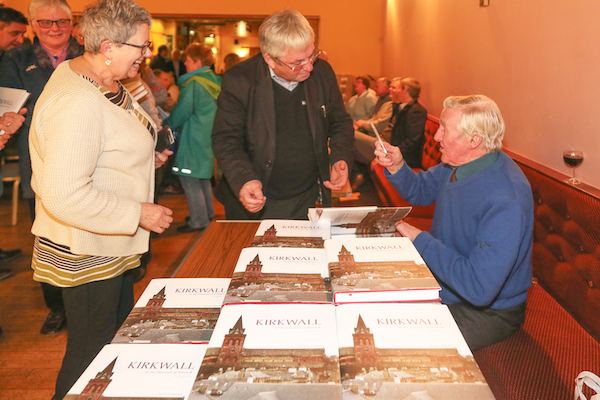 Last night (Wednesday), saw the launch of a new book about the history of Kirkwall, written by local historian and author G.D. Partner, at the Masonic Hall, Kirkwall.
Kirkwall: In the footsteps of Hossack, Volume 1 is the latest book to be published locally by The Orcadian and the first in a two-part series. It gives a fascinating account of the town, then and now, thanks to extensive research undertaken by the author.
The book — an Orkney collector's prize — details the history of the Royal Burgh until about 1900, street by street, building by building, and describes key personalities and events. It is primarily focused on the 1900-2000 period, and homes in on the shops, businesses and foundation dates; the founders, changes in ownership, and the types of trade carried on in each premises.
A must-buy for any local history buff, Kirkwall: In the footsteps of Hossack also takes a close-up look at the expansion of the town, the creation of housing, and businesses which began life as early as the 1850s.
Following on from last night's launch, G.D Partner will also be signing copies at The Orcadian Bookshop, this Saturday, November 25, 2 – 3pm. With Christmas on the way, this is the perfect chance to have a personal inscription added by the author, or to give yourself an early seasonal treat.