news
New GMB papers gifted to archives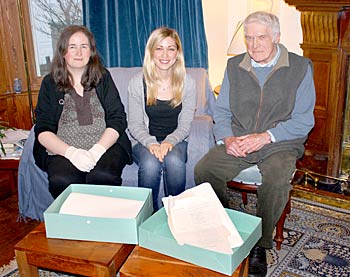 Rare and unpublished work by George Mackay Brown, is among a collection of his papers, to be loaned permanently to Orkney Library and Archive by Archie and Elizabeth Bevan from Stromness.
Senior archivist David Mackie said: "The archive already holds a relatively small number of GMB letters and manuscript poems in other collections so we are very grateful that the Bevans agreed that it was important to keep these papers within Orkney.
"George Mackay Brown's writing was so influenced by his life in Orkney – researchers will hopefully gain a better understanding of the writer by viewing his papers within the islands he loved."
The first deposit from the Bevan family contains 21 boxes of manuscripts by George Mackay Brown, including some rare and unpublished material, as well as newspaper and magazine cuttings and correspondence.
A British Academy grant was given to Linden Bickett, a postgraduate research student from the University of Glasgow, to catalogue the collection. Having completed the first batch of paper, Linden will return in April 2012 to continue with the project.
The contents of the collection will soon be listed on the archive page of the Orkney Library website.