news
Native breeds reign supreme at Dounby cattle competition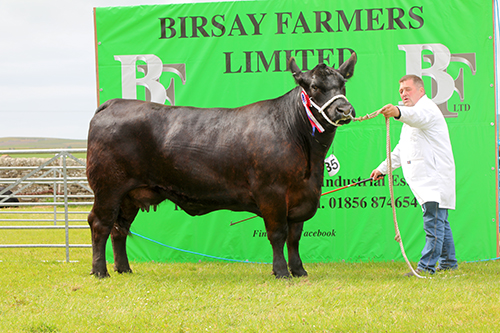 The title of overall winner at today's Dounby Show cattle section has been awarded to a three-year-old pedigree Aberdeen Angus cow, shown by Messrs Davidson, from Skaill Farm, in Sandwick.
A "delighted" John Davidson said the homebred cow, named Skaill Estella P117, was from the bull Blelack Blackrod and was out of a dam from the Diana family.
The reserve prize went to a Shorthorn heifer shown by B. & S. Slater, of Newbigging, in Dounby. The April 2015-born heifer, is named Greenburn Julie and is from the bull Chapelton Delegate and out of a dam named Greenburn Cassie. The animal was bought in June 2015 from Eric Heddle, East Moaness, Lyness.
Today's cattle judge for both the Aberdeen-Angus and Shorthorn breeds was Hamish Sclater, from Turriff. He commented: "I knew fine I had two good champions when I was judging the sections.
"The champion is only three years old and she's a big animal for her age. She has tremendous style to her and really sparked. The reason she beat the Shorthorn is because she had a bit more backside on her, although the Shorthorn was a lovely moving heifer."