news
Missing diver swam towards sailing vessel before being rescued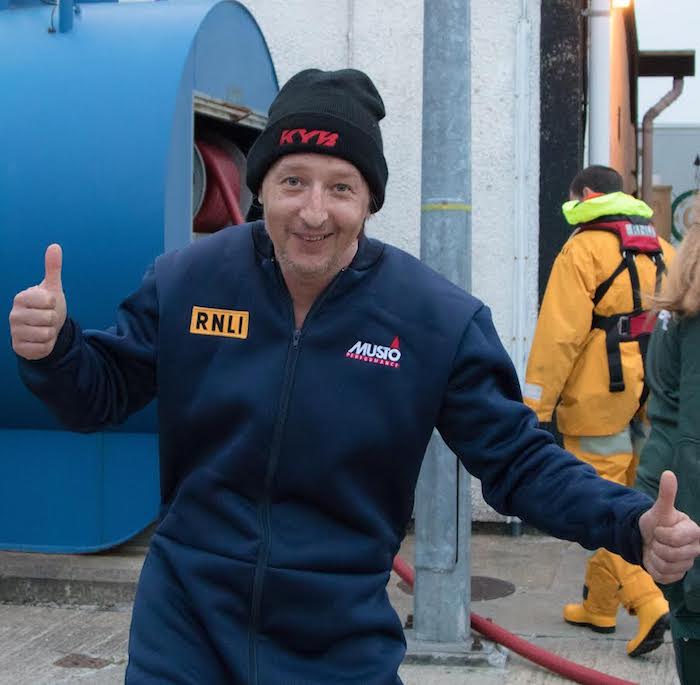 The missing diver who survived 11 hours in the Pentland Firth has been named locally as Ivan Doychev.
Mr Doychev is pictured after arriving in Scrabster onboard Thurso Lifeboat this morning.
After giving a quick thumbs up, he was transferred to a waiting Ambulance and taken to Caithness General Hospital for a check up.
Following a major air and sea search the diver was picked up at 3am by the Russian registered sail vessel Yunyi Baltiets, 2 miles east of Duncansby Head after 11 hours in the water.
He went missing off the local scallop boat Fair Morn off South Ronaldsay at 5.20pm last night.
Three lifeboats, from Longhope, Stromness and Thurso, two Coastguard helicopters, and several other vessels were involved in the operation, as well as Coastguard teams on both sides of the Pentland Firth.
The sail training vessel Yunyi Baltiets had been sailing up the east coast of Scotland, had located the diver in the sea 1-2 miles east of Duncansby Head and retrieved him from the water. The vessel, which had a doctor on board reported that the diver was alive in a reasonable health.
Thurso Lifeboat was immediately diverted back to meet the Yunyi Baltiets and rendezvoused with the vessel at 4am, 2 miles north of Duncansby Head.
The diver was taken aboard the Thurso Lifeboat, where he was "cold but communicating very well and appeared to be in reasonable health."
The crew got him out of his diving gear and into warm dry clothes and the medic onboard checked him over.
Mr Doychev told the lifeboat crew when he saw the sail vessel he swam towards it and managed to catch their attention, despite it being dark at the time.
On arrival in Scrabster the quickly posed for a photo showing how happy he was, before being checked over by an ambulance crew and transferred to hospital as a precaution.
The RNLI have issued a video of the rescue, below.