news
Memorial plaque to lost Stromness seamen unveiled in Faroes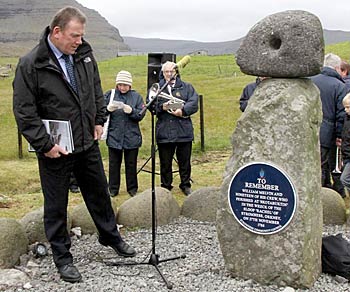 OIC convener, Councillor Stephen Hagan has travelled to the Faroe Islands to unveil a memorial plaque to 20 sailors from Stromness lost in a wreck off the islands in 1786.
The plaque, presented on behalf of Stromness Community Council at a ceremony on Sunday, is in memory of William Melvin and 19 of his crew of the Stromness seal catcher Rachel, which was wrecked off the island of Svinoy on November 27, 1786.
The Rachel was sheltering from a storm in the bay of Svinoy, but its anchor failed to hold.  Of the 23 men on board, only three were rescued and subsequently cared for by the people of Svinoy. Those who were killed in the tragedy were buried in the village.