news
Meet the "Brodgar Boy"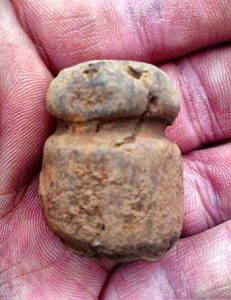 First there was the "Orkney Venus" – now there's the "Brodgar Boy"
The small clay figurine, measuring about only 30mm high, has turned up in the ongoing excavations on the Ness of Brodgar.
Although not as clear cut as the famous, and beautifully executed, "Westray Wife" discovered at the Links of Noltland two years ago, the Stenness find does seem to be a fairly crude representation of the human form – a head, body and two eyes.
One end of the object is broken and it may originally have been part of a larger clay object that once broken, had "eyes" added to create a small figurine.